5 of 100
Quicken Loans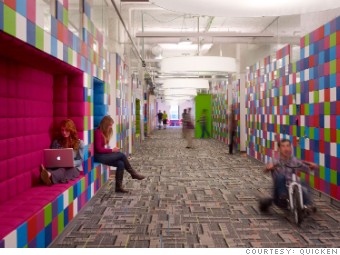 5
Rank
: 5
Previous rank
: 13
Annual revenue ($ millions)
: N.A.
What makes it so great?
The mortgage lender is intent on reversing brain drain from Michigan. A recent job fair in downtown Detroit attracted 2,500 applicants for 500 jobs. It also partnered with area businesses to offer incentives to employees willing to move to the city, including $20,000 in forgivable home loans.
Headquarters:
Detroit, MI
Website:
www.quickenloans.com
Read Quicken Loans's Great Rated! review
here
.
Network with Quicken Loans
Jobs
% job growth (1 year)
46.2%
Job openings
(as of 1/2/14)
1,210
Most common job (salaried):
Mortgage Banker
$112,677
Most common job (hourly):
Client Care Specialist Mortgage Loan Processor
$49,568
Fully paid sabbaticals
No
Health
100% health-care coverage
No
Onsite fitness center
Yes
Subsidized gym membership
Yes
Diversity
Has nondiscrimination policy
that includes sexual orientation?
Yes
Offers domestic partner benefits
for same-sex couples?
Yes
Professional training
Salaried employees (hrs./yr.):
290
Hourly employees (hrs./yr.):
240
From the February 3, 2014 issue