6 of 100
Genentech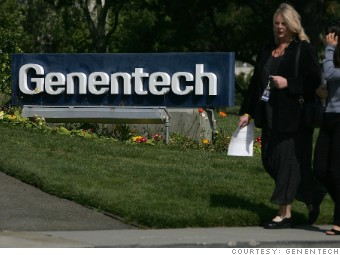 6
Rank
: 6
Previous rank
: 36
Annual revenue ($ millions)
: $14,778
What makes it so great?
The staff at the biotech giant is inspired by patient stories. When a new breast-cancer drug got FDA approval last February, employees pulled out all the stops to ship the drug overnight to the UCLA Medical Center, where they had heard three women were desperately awaiting treatment.
Headquarters:
South San Francisco, CA
Website:
www.gene.com
Read Genentech's Great Rated! review
here
.
Employees
Employees outside U.S.
12
Jobs
% job growth (1 year)
7.6%
Job openings
(as of 1/2/14)
866
Most common job (salaried):
Clinical Specialist
$162,900
Most common job (hourly):
Senior Administrative Assistant
$78,733
Fully paid sabbaticals
Yes
Health
100% health-care coverage
No
Onsite fitness center
Yes
Subsidized gym membership
Yes
Diversity
Has nondiscrimination policy
that includes sexual orientation?
Yes
Offers domestic partner benefits
for same-sex couples?
Yes
Professional training
Salaried employees (hrs./yr.):
12
Hourly employees (hrs./yr.):
8
From the February 3, 2014 issue