7 of 100
Salesforce.com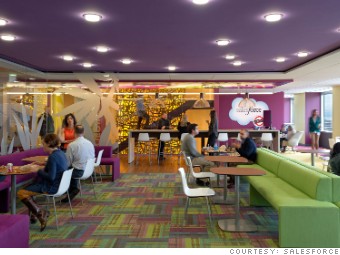 7
Rank
: 7
Previous rank
: 19
Annual revenue ($ millions)
: $3,050
What makes it so great?
The leader in cloud computing has doubled its workforce from 5,000 to 10,000 in the past two years, adding 1,264 full-time jobs in 2013. New hires joined a team motivated by recognition programs and rich incentives—last year top sellers were rewarded with a two-week trip to Bhutan.
Headquarters:
San Francisco, CA
Website:
www.salesforce.com
Read Salesforce.com's Great Rated! review
here
.
Network with Salesforce.com
Employees
Employees outside U.S.
3,559
Jobs
% job growth (1 year)
23.1%
Job openings
(as of 1/2/14)
835
Most common job (salaried):
Software Engineering SMTS
$152,374
Most common job (hourly):
Account Executive
$101,369
Fully paid sabbaticals
No
Health
100% health-care coverage
No
Subsidized gym membership
Yes
Diversity
Has nondiscrimination policy
that includes sexual orientation?
Yes
Offers domestic partner benefits
for same-sex couples?
Yes
Professional training
Salaried employees (hrs./yr.):
76
Hourly employees (hrs./yr.):
76
From the February 3, 2014 issue