(Fortune Magazine) -- Midway was once the world's busiest airport - until crosstown rival O'Hare overtook it in the early 1960s. Later this year it could reclaim its place in history, this time as the first major U.S. airport to go private.
Goldman Sachs (Charts), Deutsche Bank (Charts), Australian infrastructure specialist Macquarie (Charts) and Spanish airport operator Ferrovial are all circling the 750-acre Chicago airfield, which could fetch up to $3 billion.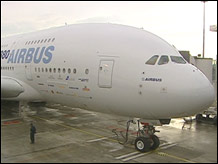 CNN's Richard Quest is on board an Airbus A380 as it makes its first flight. (February 7)
Play video

"Mayor Daley has always had this in the back of his mind as a way to raise capital," says Dana Levenson, Chicago's chief financial officer, about the asset selloff. "But until the amount of money chasing [infrastructure] became a critical mass, it wasn't immediately feasible. In any market, you need a buyer and a seller."
Infrastructure has become one of the hottest asset classes in the U.S. as banks and private-equity firms earmark funds to invest in properties once considered the province of municipal governments. And Chicago, a fiercely proud city led by a Democratic, pro-labor mayor, is unexpectedly in the vanguard.
After the landmark privatization of the Chicago Skyway, which the city leased to a foreign consortium for $1.8 billion in 2005, similar deals followed. Last year Chicago sold a portfolio of municipal parking lots to Morgan Stanley (Charts) for $563 million. In January the State of Illinois put its lottery, which could fetch as much as $10 billion, on the block.
However, Chicago's biggest potential payday may prove to be its most challenging. First there are the political hurdles. Since several potential buyers are foreign companies, the deal could run into the same jingoistic smackdown that killed the sale of five U.S. ports to a Middle Eastern company last year.
Then there are the economic issues - 65 percent of the carriers at Midway have to approve the transaction, and they may require that landing fees (the charges they pay to the airport operator) be capped. The bidders, on the other hand, will push for a fee schedule that gives them a decent return on their equity. In the past, airlines have argued that privatization can exacerbate an airport's natural monopoly if landing fees and other economic concessions are not regulated.
Macquarie's investment in Sydney Airport, for example, has been profitable for the bank, but it recently lost a court case to low-cost airline Virgin Blue over anticompetitive practices. Similar complaints have been heard at private-sector airports including Athens, Auckland and Rome.
For passengers, the results have been much more positive. Though a new phenomenon in the U.S., airport privatization has been prevalent for decades in Europe and Australia, where the lack of a municipal bond market has forced governments to seek creative means to finance their infrastructure. In one of the first and most successful examples, Prime Minister Margaret Thatcher's government raised $2.3 billion by privatizing the British Airport Authority, now known as BAA, in 1987. (Ferrovial acquired BAA last year for ten billion pounds.)
To boost revenues post-privatization, operators typically focus on two primary profit streams often overlooked by government owners, both of which can have a positive impact on the airport experience. One avenue involves monetizing an airport's excess real estate by building parking lots for travelers or warehouses for companies such as FedEx that want to be on the runway.
The other is adding restaurants or high-end clothing boutiques and getting passengers through security quickly so that they can spend more time (and money) in the terminal. Mark Florian, head of North American infrastructure investment banking at Goldman Sachs, points to Heathrow, a BAA property, as one of the best examples. "There are more opportunities to get into your pocketbook than one could imagine," he says.
Yet as the Midway sale draws near, it remains unclear how much of an impact the transaction could have on the U.S. airport industry as a whole. Chicago is proceeding under the aegis of a ten-year old FAA pilot program that allows for five airport privatizations, only one of which can be a large hub airport. To date, only Stewart International in Newburgh, N.Y., has been privatized, but David Bennett, a director with the FAA's Office of Airport Safety and Standards, says that if Midway is deemed a success, Congress may extend the program and clear others for takeoff.
__________________
United Airlines wins nonstop route to China