(Fortune Magazine) -- Caen is a short drive from the Normandy beaches where American soldiers landed on D-Day to liberate Nazi-occupied France. Its 250,000 residents have a soft spot for the U.S., but the fondness stops short of American-style free-market policies.
Like many French, Caen's residents say they are horrified by Americans' poor health insurance and retirement packages and their lack of job security - or precarité, as the French call it. Anxiety that France might be pressured into following the U.S. economic model erupted in Caen in 2001, when the light-appliance maker Moulinex declared bankruptcy and was sold to new owners, who shut four factories and laid off 2,880 workers. About 600 are still suing in a Caen labor court to be reinstated, and many of them were in a packed auditorium on a chilly February evening to cheer for a slender, dark-haired woman in a white tailored jacket who had come to Caen looking for votes.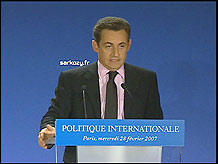 French presidential candidates utilize the Internet to attract voters. CNN's Jim Bitterman reports (March 26)
Play video

"Those we call 'the little people' must be recognized and listened to," the presidential candidate, Ségolène Royal, told the crowd to thunderous applause. "There's a sense of crisis in the nation."
That sense of crisis - largely lost on those who visit France for its languid rhythms and splendid food - is reaching its own loud pitch these days. As President Jacques Chirac's 12-year tenure ticks down to its final weeks, the battle to succeed him has cracked open the most fraught debate the French have had in years, even for a country given to existential angst.
Royal, a veteran Socialist Party politician, and her major rival in the April 22 election - the powerful conservative Interior Minister, Nicolas Sarkozy - have tapped into the anxiety of millions of French over how long their government's beneficence can last.
At stake is the social system to which France has stuck doggedly for years, long after its European neighbors and the U.S. began chipping away at public benefits. In France the system begins almost at birth: 16 weeks' paid maternity leave, free schooling and university, subsidized health care, a 35-hour workweek, minimum five weeks' annual paid leave and tight job security, and pensions that begin nearly 20 years before the average person dies.
"We are the last communist country in the world," says Stéphane Hamelin, president of the $1 billion paper company Groupe Hamelin, which is headquartered in Caen. No surprise, then, that millions of French have taken to the streets in recent years in a scramble to preserve what they have. And why not?
The answer to that question is the central battle this election season. The race remains uncertain. After years of near paralysis at the top, about a quarter of French voters tell pollsters they might ditch both the Socialists and Chirac's Gaullist UMP Party and vote for the minor-party centrist François Bayrou, nicknamed the ni-ni (neither-nor) candidate by some.
Voters could put Bayrou in the Élysée Palace - an event as rare as the White House being run by neither a Republican nor a Democrat - in the deciding second-round vote on May 6.
Differences aside, the candidates are all grappling with the same conundrum: how to tackle France's public debt of about $1.3 trillion, an unemployment rate of about 8.5 percent - double that for people in their 20s - and the country's withering clout abroad. The new President needs to fix all that without sparking unrest.
Chirac's government has repeatedly abandoned reform plans after tumultuous protests, most recently after last April's student riots. The result? Even within the European Union, France has slipped badly since the mid-1990s, from sixth place to 11th in per capita national product.
Paychecks are smaller than in many other Western countries, thanks to heavy social charges, which are shared between employees and companies. Worse, companies try simply to avoid adding staff.
Sarkozy and Royal - or Sarko and Ségo, as the French call them - vow to break the paralysis. Sarko, 52, says he would end the supertaxes companies pay for staff to work overtime hours, allow tax-deductible interest payments on mortgages, introduce state-guaranteed home loans and break the unions' grip on workplace representation.
Ségo, 53, promises to raise the monthly minimum wage from $1,645 to $1,968, build millions of public housing units, and give new graduates interest-free loans of about $13,000. Bayrou, 55, suggests allowing companies the right to hire two new employees without paying social charges and streamlining the onerous paperwork for entrepreneurs.
The promises have come too late for countless ambitious young French who have already left, further sucking the dynamism from France. "Every year I lose waiters to England, Ireland, and the U.S.," says Philippe Villalon, owner of a Caen bistro.
As president of the National Federation of French Restaurants, which represents about 100,000 establishments, Villalon has described the industry's woes in private meetings with Sarkozy and Bayrou. "All the waiters want to work 50 hours a week, but we cannot hire them for more than 35 hours," he says.
So many French have decamped to London - about 300,000 - that Sarkozy flew there in January to campaign for votes and appeal to them to come home. Gilles Moec, 36, an economist for the Bank of America in London, was unconvinced. "At this point I don't know what would bring me back to Paris," he says. Last summer he quit his job at the Banque de France in Paris after 12 years and tripled his salary across the Channel. "There is an incredible weariness in France," Moec says. "Everyone knows things have to change, but no one comes forward with an answer."
Walk Caen's cobblestone streets and the obstacles to change become clear. "Life is not just about money," says Jean-Louis Jutan, who runs an activist organization in Caen for ex-Moulinex workers angry that factory jobs have been exported to China. "In China they have child labor and prison labor. French workers have good conditions."
Royal, who visited China early in her campaign, seems to agree. On her way to address the rally in Caen, she stopped to meet with Jutan and other laid-off workers to discuss their lawsuit and offer her support.
But to some, the campaign speeches sound disconnected from France's real problems. "The candidates are not explaining the real world to people," says Hamelin, 45, of the family-owned paper company. "In England people are not happy when you close a factory, but they understand. Here the education will take another 20 years."
As the fourth generation in his family to run the business, Hamelin operates eight factories in France, two of them in Caen, and others in England, Poland, Germany, China and Malaysia, as well as a small plant near Boston. He says it took him 18 months to obtain permission to build a factory in Bordeaux, about three times longer than required in Britain and six times longer than in China. "France must be one of the nicest places in the world to live," he says. "But now I'm doubting that we will be able to manufacture in France in ten years' time."
Sarkozy made no mention of those tough decisions facing executives when he traveled to Caen in early March for a campaign rally even bigger than Royal's. Instead, he used his visit to evoke one of France's most cherished icons, Charles de Gaulle, who landed on Juno Beach, 13 miles from Caen, when he returned to liberated France from Britain in 1944. Rather than meet laid-off workers, Sarkozy laid a wreath at the war memorial on the beach before his motorcade sped to Caen.
Alone on a giant stage, the kinetic Sarkozy rocked back and forth on his heels, as though impatient to begin his presidency. Pumping the air with his fist, he told the crowd of about 10,000 that the country faced "a profound crisis of national identity." Then he quoted the phrase de Gaulle delivered to the battered French in 1946: "Where is the future? It is within us."
Unlike Chirac, the next President will have been born after the war and will inherit a country slightly bruised, though hardly battered. Like the postwar era, France is going to need more than poetic phrases to tackle the future.
___________________
The next Silicon Valley: Siberia
The richest city in the world