(Fortune Magazine) -- On its face, a drive to force public pension funds to halt investment in companies operating in countries believed to be sponsors of terrorism - primarily Iran - is in full swing. Presidential candidates John McCain and Mitt Romney support it. Legislation is being introduced in Congress and five states, including California. And on March 12, the American Israel Public Affairs Committee, the powerful pro-Israel lobby known as AIPAC, launched similar campaigns in ten states.
But the three-year-old divestment movement has had only "limited success" so far, admits lead advocate Christopher Holton of the Center for Security Policy, a conservative think tank in Washington, D.C. Not a single state has passed legislation, and only two state funds have taken any action.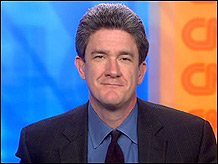 CNNMoney.com's Allen Wastler sounds off on Chiquita's plight, pet food problems and more. (March 20)
Play video

Compare that with the divestment campaign over the issue of Darfur: Five states have passed legislation mandating divestment in companies doing business in Sudan, and 21 more are slated to consider bills this year.
The lack of traction is in part the fault of the federal government. In 2004 the Center for Security Policy issued a report claiming that 87 of the nation's 100 largest public pension funds had invested 15 to 23 percent of their portfolios in some 400 foreign companies and subsidiaries of U.S. corporations active in countries that sponsor terrorism. Among the center's "dirty dozen" were Alcatel (Charts), BNP Paribas, PetroChina (Charts), Siemens (Charts), ENI (Charts), Statoil (Charts), Hyundai and Total (Charts).
A group of 50 pension fund managers has twice written to Washington asking for guidelines and for a list of companies doing business in terror-sponsoring countries. But federal authorities have refused to issue any lists. The Treasury, State and Commerce departments, as well as the SEC, all decline to explain why.
But in a July 2004 letter to the chair of the Pennsylvania employees' retirement system, the SEC noted that it was "inappropriate to publish a list of companies whose securities might be deemed to involve terrorism-related investment risk." Moreover, blacklisting foreign companies would create tensions with their governments, many of which are American allies. Companies based in the U.S. are barred from doing business with Iran, but sanctions do not extend to foreign companies, which operate there legally.
"There is frustration that fiduciaries have to make decisions outside their natural realm," says Thomas Lussier, the Washington representative of Calpers, the largest U.S. public pension fund, who is watching the progress of California's legislation. "Is this a job for pension funds? The answer is no."
Still, the state of Missouri decided to act on its own. Last year treasurer Sarah Steelman took BNP Paribas and UBS off the state's list of preferred broker-dealers because of their financing of energy projects in Iran.
"The federal government refused to provide us with the information, so we decided to do the research through private companies," says Steelman. In July, Missouri set up a "terror-free" endowment fund that screened out more than 15 foreign companies. It outperformed the market by 4 percent last year, Steelman says.
A BNP Paribas spokeswoman says that the bank isn't violating any laws. UBS and others voluntarily halted operations in Iran in response to U.S. government pressure. The Swiss bank will send a representative to Missouri in April to brief Steelman on its new policies. So far, other states have declined to heed divestment calls, and only the Louisiana sheriffs' pension fund has adopted such a policy.
_______________
Buffett blasted for holding onto PetroChina
Chiquita pleads guilty to terrorist payments