(Fortune Magazine) -- Twenty years ago, if you were in the market for some exotic sheet metal, you would have lusted after the kind of experience only Lamborghini's Murciélago still delivers: a frighteningly powerful supercar blissfully free from the kind of right-now technology that would give such a fire-breather some manners. Sure, you'll suffer the occasional glitch (like a parking brake you have to stand in the seat to release), but it's worth it to sample something so undiluted.
Now owned by the VW Group, Lamborghini has begun to build Mensa-level sports cars like the other ultra-high-end brands; just go drive the Murciélago's little brother, the all-aluminum V-10 Gallardo - engineered with lots of input from Germany - and you'll see how intelligent an adrenaline-delivery system can be. So the Murciélago LP640 Roadster, the company's topless iteration of its flagship V-12, is the only remaining "pure" Italian Lambo; the car was designed without VW's input.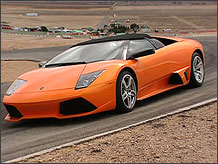 Fortune's Sue Callaway talks to NASCAR driver Boris Said about his test drive of the Lamborghini Murcielago roadster.
Play video

True to its charging-bull emblem, Lamborghini's $400,000 car is about as subtle as Paul Allen's 400-foot yacht. It is as raw as sashimi and as refined as fresh-sliced sugar cane. If flashy entrances and futuristic origami lines are to your taste, it's one sweet ride.
To test this Italian handful, which has 640 hp and a zero to 62 of 3.4 seconds, I decided the only responsible thing to do was take it to a track. And with it I took some professional help in the form of champion driver Boris Said. Said, who owns and drives for the NASCAR No Fear Racing team, can pilot anything well - and has. He was the first American, in 2005, to win the 24 Hours at the Nürburgring. He's won Trans-Am, he's survived Baja, he's a sports car champ. And he happens to have one of the most entertaining fan bases of any NASCAR driver: They call themselves Said Heads - and they wear 'fro wigs (à la Boris's curly mop) to races.
Boris and I slipped under the scissor doors (at 6-foot-4, he actually folded himself in painfully) and took off, the car's rear-mounted V-12 howling behind us like a pack of coyotes after a kill. We could barely hear each other, but the real entertainment was outside the car: Dozens of people nearly drove off the road trying to get a good look at the two-seater's razor-sharp angles. When we stopped for gas, grown men swarmed as if sucked in magnetically by the roadster's metallic tangerine paint. An alien landing wouldn't get more attention.
Soon enough we arrived at Willow Springs International Raceway, a multitrack facility in Rosamond, Calif. We had a tight one-mile loop, called Horse Thief Mile, which was cut into a steep hill. As we got ready to lap it, an arctic rain began to fall. Boris and I scrambled to fit the car's flimsy, toupee-like canvas roof on. It took both of us and one other helper more than ten minutes to get all five jigsaw-puzzle pieces in place. Trust me, no German engineered that sorry contraption.
And then the fun began. Boris quickly got up to speed and flogged the Lamborghini up hills, around hairpins, down steep drops. Within a few laps he was achieving significant wheel slippage - no easy feat in an all-wheel-drive car. In fact, Boris was being as unsubtle with the Murciélago as the car is itself - a match made in heaven. "This is the car I'd take if I was fighting with my wife," he bellowed over the racket. "That way, I couldn't hear her."
My turn. The great thing about driving after Boris is that he shortcut it for me: I now knew how hard the Murciélago could be pushed in each corner. It took some bravery, but as I nailed the gas, I felt the all-wheel drive grab and pull me through the corners. It liked a footful of pedal and rough handling.
After an hour we headed over to Willow's biggest track, a 2.5-mile road course. Its long straightaway allowed us to push the Murciélago up to a good 130 mph before standing on the excellent carbon ceramic brakes (a $16,250 option). With Boris behind the wheel, I could feel the roadster dancing on its toes, the slippery track providing little traction.
By the end, though, we both found things to complain about: Boris kept hitting the horn during spirited steering. We both wished the paddle shifters were wheel-mounted, not stalk-mounted. Going into a sharp turn, my hands would be at 12 o'clock and six o'clock - but the paddles remained nearly out of reach at nine and three. The car also feels heavy despite all its power, with the massive engine looming over the driver's shoulder like a monster from a netherworld about to attack. And yet we agreed that the faster we went, the better and better the car felt. It is, indeed, a racecar in (flashy) street clothing. What seemed coarse on the highway felt natural on the track.
A car like the Murciélago LP640 Roadster is perhaps an acquired taste. It's all about extremes - extremely good performance, extremely bad roof, extremely, well, extreme design. It's not for me, but then again, I have to applaud a company that hasn't refined all the fun right out of the car. Enjoy it now: It is most certainly the end of an era.
________________
Best Cars 2007 - Consumer Reports