(Fortune Magazine) -- No. 21 Inside the ten-story headquarters of UnitedHealth Group, on an immaculate 25-acre campus in a tranquil Minneapolis suburb, a new CEO, and his company, are trying to sluice away the stink of scandal.
For 15 years UnitedHealth (Charts), now the nation's largest health insurer, was the domain of Dr. William Wayne McGuire, a 6-foot-6, 260-pound titan of the health-care industry. During his reign the company grew from a $600 million HMO operator to a $70 billion colossus, generating an eye-popping average annual return of nearly 30% for investors - better than General Electric under Jack Welch.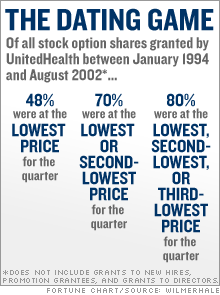 But now McGuire is gone, bounced by a board that made him a billionaire, after revelations that transformed the celebrated executive into the public face of the stock options scandal. McGuire has been replaced by his unassuming, handpicked deputy, Stephen Hemsley, a 54-year-old former CPA and operations wizard who is busily trying to restore the company's battered image and set a new tone of corporate responsibility and frugality.
So UnitedHealth's museum-quality modern-art collection, lovingly assembled by McGuire, is going on the block. Three of the five corporate jets are being sold, and the company will no longer pay for the CEO's personal travel. A raft of new controls and a beefed-up administrative staff - the sort of thing that McGuire reviled as bureaucratic - are locking down the freewheeling atmosphere in which the CEO selected dates for his own stock options during a phone call with a single member of the UnitedHealth board (a director, as it turned out, who managed millions in investments for McGuire).
In fact, options are no longer the coin of the realm at UnitedHealth, where by the end of 2005, McGuire's total take for his career as CEO had a staggering paper value of $2 billion. Hemsley's new contract gives him zero options - and the board's grants, which made virtually every director millions, have been cut in half.
More ugliness lies ahead: criminal and SEC investigations, shareholder lawsuits, and the prospect of a nasty fight with the departed CEO, in which the company may seek to recover hundreds of millions while McGuire fights to secure a $90 million retirement package. Although UnitedHealth remains extremely profitable, Hemsley also faces the challenge of maintaining its stature as a highflying growth company, now that its visionary leader has plummeted to earth. (McGuire and Hemsley declined to be interviewed for this story.)
It's all part of the painful process of changing an intensely personal corporate culture - one that fueled the company's ascent but ended in flames. "A great CEO becomes dangerous over time," says Goldman Sachs health-care analyst Matthew Borsch. "If you are incredibly successful as CEO, you have tremendous power within the company, over the board, and everybody's telling you that you're invincible. And then you become the risk to the extent that your own arrogance becomes the problem."
'Rocket ship'
Among those who have followed the rise of UnitedHealth, McGuire's stewardship is widely regarded as a work of genius. "In my 30 years of being a health-care analyst, I've never seen one executive add more value to one company than Bill McGuire," says Ken Abramowitz, managing general partner of NGN Capital, a health-care venture capital fund. "I covered 50 companies in the industry, and this was the biggest rocket ship of them all."
McGuire took over as CEO of UnitedHealth in 1991, at the age of 42, only six years after leaving private medical practice to jump into the embryonic managed-care game. Trained as a pulmonologist, McGuire is a cerebral, ambitious man, a collector of butterflies, wine, art, and antiques. He rapidly proved himself that rarest of commodities: a physician with a gift for business.
McGuire built UnitedHealth largely through a string of acquisitions, first adding share in local markets, then doing bigger deals to establish a national footprint. He adroitly moved the company in and out of businesses, displaying a knack for jumping ahead of industry trends. As one former McGuire deputy puts it, "He saw around the corner before you got to the corner."
He had an eye for talent too, recruiting gifted executives from outside the health-care business, including a former CEO of Northwest Airlines. In 1997, when the company was starting to choke on its own growth, McGuire hired Hemsley, a 23-year veteran of Arthur Andersen (he'd once served as the firm's CFO), to make it all run smoothly. By 1999, Hemsley was president and COO - Mr. Inside to McGuire's Mr. Outside.
McGuire was able to delegate decisions involving tens of millions, but he micromanaged certain details. He found the ding of arriving elevators inappropriate for the atmosphere in the company's executive space, so he had them silenced on the building's top two floors. He orchestrated travel arrangements for directors on the corporate jets. McGuire had UnitedHealth spend $820,000 to buy a four-bedroom house next door to his own estate as a temporary residence for new executives. The property was rarely used; Hemsley is selling it.
McGuire's directness, stentorian voice, and bulk made him an intimidating presence. But he is actually an introvert. Married to his college sweetheart, he worked at least six days a week and slept just a few hours a night. "He ate, slept, and dreamed United," says former Goldman Sachs health-care analyst Roberta Goodman, who now teaches at Vanderbilt. "When Bill went on a family vacation to Scotland, he called me before he was leaving and said, 'Could you set up meetings for me with Scottish investors?'"
As a boss, McGuire was respected but demanding, and stinting with praise. "He's a tough guy to work for," says Bernard McDonagh, a former health-care analyst who went to work as UnitedHealth's investor relations chief in 1995. "If you didn't hold your ground with him, he'd steamroll you." In Minneapolis, a town of communal sensibilities, he was criticized for being stingy when he gave millions anonymously to charity and criticized for putting his name on buildings when he made a series of public $10 million gifts. As one local explained it, "It's not very Lutheran."
Conscious of his industry's reputation for avarice, McGuire wrapped UnitedHealth in the mission of transforming the American health-care system. "He basically wanted us to change the way medicine was practiced for the better, and do it with our power and influence," says Dr. Lee Newcomer, the company's former chief medical officer. UnitedHealth won praise for giving patients open access to medical specialists and focusing on managing medical problems instead of denying coverage. "When we improve health, we make money," McGuire declared. "When we improve health more, we make more money."