(Fortune Magazine) -- Lately the script of Jeff Zucker's life seems plucked from the pages of a sitcom. Just consider: In the three months since ascending to the CEO position at NBC Universal, he has had to deal with a comely financial anchor's controversial jet-setting (Maria Bartiromo), a shock jock who got into hot water after an idiotic on-air outburst (Don Imus), and then, in early April, Zucker's doctor delivered the punch line: He has (hold the laugh track)... gout. "It's interesting that he has a disease associated with Versailles," quips Conan O'Brien, Zucker's employee and a pal from Harvard. "Too much duck à l'orange? That's not good for the GE corporate image."
Actually it was the next incident that wasn't good for the GE (Charts, Fortune 500) image. That one blew up after actor Alec Baldwin, who is starring in the new sitcom 30 Rock, left his 11-year-old daughter a voicemail rant calling her a "rude, thoughtless little pig." The message was leaked to TMZ.com and splashed all over the tabloids.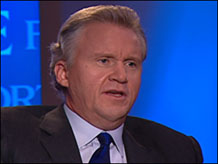 GE's Jeff Immelt and Procter & Gamble's A.G. Lafley talk with Fortune's Geoffrey Colvin about what happens when a company ignores market responses.
Play video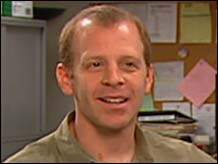 The co-executive producer of NBC's 'The Office' discloses the secrets of Michael Scott's unlikely success.
Play video

Why did that hit so close to home? Well, bear with us. Baldwin's character on 30 Rock, you see, is Jack Donaghy, vice president of East Coast Television & Microwave Oven Programming. Donaghy works for a diversified conglomerate, and trouble seems to follow his talent, so his job is to keep things under control while figuring out how to boost ratings at the dysfunctional network. Yes, not only does Jeff Zucker's life sound like a sitcom - it pretty much is one.
Zucker's job puts him squarely at the intersection of Hollywood and Planet GE--a profoundly awkward place. General Electric co-owned NBC as a radio network within RCA back in 1926, sold its stake in 1932, bought NBC back 54 years later, and then, under Bob Wright's leadership, built it into a $16.2 billion media powerhouse, spanning everything from cable channels like CNBC and top-rated USA to Telemundo and Universal Studios. Were it not owned by GE, NBCU would outrank CBS (Charts, Fortune 500) and Viacom (Charts), as well as Gap (Charts, Fortune 500) and Xerox, at No. 143 on the FORTUNE 500.
When the businesses are humming, the unit bestows glamour and mass-market relevance on its parent. But when things aren't operating smoothly, well, let's just say it's a good thing that Zucker "feeds off pressure," as O'Brien says.
The locus of the drama is the flagship broadcast business, where NBCU's new leading man is plagued by performance problems. During Zucker's previous job - a three-year stint as head of the television unit - NBC tumbled from first place to fourth in primetime, with critics pegging the collapse to his lousy record developing sitcoms. Primetime profits, which peaked at $650 million in 2003, have disappeared. NBCU's overall profits fell 6% in 2006, making it the only GE unit to post a decline.
Given GE's famously up-or-out culture, one can be forgiven for wondering why Zucker (rhymes with "booker") still has a job - much less the top one. Outgoing NBCU chief Bob Wright is said to have told a fellow executive, "I'm in a funny position with Zucker. Either I promote him or I fire him." Asked about that, Wright replies, "That is a joke!" He says he said it to Zucker's face.
Jeff Immelt, the CEO of GE, has given Zucker the benefit of the doubt. "I really don't blame Jeff. I don't accept it, but I don't blame him," he says about Zucker's struggle to revive NBC, explaining that he inherited aging shows. Immelt says Zucker bested a handful of outside candidates for the job in part because he's "green" on decisiveness. Translation? The GE chief evaluates all his executives on five "growth traits" (inclusiveness, imagination/courage, expertise, external focus, and clear thinking/decisiveness), rating them green, yellow, or red (green is best) on each trait. "He's cocky. I kind of like that," says Immelt. Responds Zucker: "One person's cockiness is another person's confidence."
Immelt was impressed with Zucker's swift action at MSNBC and CNBC, where he replaced management and overhauled the program lineups. Ratings are up 36% at MSNBC and 76% at CNBC in the past year. Two years ago Zucker overruled CNBC executives and gave Jim Cramer, the high-wire-act investment guru, a stock-picking show. Mad Money is now one of the most profitable programs on CNBC, and the network earned a record $274 million last year. Zucker has also expanded Bravo and the Sci Fi Channel. He scored a hit with Heroes, TV's top-rated drama, and has shown patience with promising yet slow-to-take-off shows like The Office and, yes, 30 Rock.
In other words, the reviews are mixed. There are die-hard fans - and more than a few critics. So what happens to a sitcom - or a boss - that shows lots of promise but hasn't delivered?
* * * * *
"I've known pain in my life," says Zucker. "I vividly remember lying in a hospital recovery room with staples in my stomach. Twice. What I have now is more painful than anything I've ever felt." He is talking, of course, about his gout.
He had planned to spend his 42nd birthday in April with his wife, Caryn, and their four children in Los Angeles. Instead he stayed home and woke up alone at 3 A.M. "I was writhing in pain, and I crawled from the bedroom to the kitchen to get my medicine," he says.
That wasn't the only agony he was dealing with: Three days earlier Don Imus had uttered his notorious comment about the Rutgers women's basketball team on CBS Radio and MSNBC's simulcast. Zucker found his remark "way over the line," he says. "The question was, What is going to be the punishment?"
NBC and CBS suspended Imus that Monday. By Tuesday, after NBC had gathered employees and heard their "outrage," Zucker says, he called Immelt and told him he might cancel Imus's show. "This was one of those moments we had to show what we stood for," he says. NBC announced Imus's dismissal Wednesday afternoon, and CBS followed the next morning. It wasn't lost on the media cognoscenti that Zucker beat CBS CEO Les Moonves, his longtime archrival, to the punch. MOONVES ZUCKERED IN IMUS FLAP, noted the New York Post.
"Jeff is the most competitive executive at GE," says Immelt. "He's not afraid to make tough calls." But decisiveness alone does not a great CEO make. "Jeff still has to work on external focus," says Immelt. He means that Zucker, whose job was running NBC's Today until just 6 1/2 years ago, must learn to do deals, forge partnerships, and detect big trends. "The crosscurrents in the media industry - technology changes, shifts in the competitive field - are so fluid that you have to have antennae," Immelt says. "Bob [Wright] had super-green external focus."
To speed up Zucker's on-the-job training, Immelt has dispatched a SWAT team of GE executives to NBCU. Zucker's EVP of human resources, Marc Chini, ran HR for GE infrastructure. Ad boss Mike Pilot was CEO of GE's equipment finance division. Beth Comstock, who oversees integrated media, plus sales and research, grew up at NBC and then moved to GE headquarters, where Immelt appointed her chief marketing officer. And NBCU's new chairman? Immelt himself has taken that role.
So it was fitting that on Feb. 7, Zucker's first day in the new job, Immelt feted him before some 400 NBCU employees gathered on the Saturday Night Live set. At 5-foot-6 ("on a good day"), Zucker, who practically struts standing still, looked like a kid beside the elegantly suited Immelt and Wright.
"I'm not big on formality," he told the crowd. "And there is no idea anywhere that I don't want to hear." He ticked off his four priorities - making great content, growing the international business, managing costs, and continuing the digital revolution. "There will be more change in the media business in the next five years than the last 50 years," he said. "We have to be open to change."
As soon as the town hall ended, Zucker wasted no time showing his boss he is serious about NBCU's digital future. He rode the elevator back to 52, grabbed his suit coat from his office closet, met up with Comstock and three other colleagues, and rode six blocks to Viacom headquarters. The purpose of the visit was to meet with Viacom CEO Philippe Dauman and News Corp. president Peter Chernin to discuss creating the world's largest Internet video-distribution network.
Though many inside NBCU worried that launching a YouTube competitor would devalue the network's content, Zucker was won over by the surge in TV viewers that The Office attracted after NBC put the show on iTunes two years ago. When MTV Networks CEO Judy McGrath walked into the Viacom boardroom and handed Zucker a congratulatory bottle of champagne, he felt hopeful. That feeling disappeared after an hour of PowerPoint presentations and discussion. "They're not going to do it," Zucker told Chernin on the elevator ride down.
He was right: Viacom declined to invest in the venture (and subsequently sued YouTube for unauthorized use of its content). But he and Chernin decided to partner on their own. In March they announced the video site, with AOL, Yahoo (Charts, Fortune 500), MSN, and News Corp.'s (Charts, Fortune 500) MySpace onboard to distribute their content across the Internet. There's lots to do - critically, recruit more content providers - before the late-summer launch, but Immelt believes the video venture will help Zucker build a $1 billion web business by 2009. "It's a great example of what's next in the industry," he says.