(Fortune Magazine) -- From a journalist's perch, it's deliciously easy to critique the auto industry. Even when presented with technological high-water marks, a writer is often measured, according to other car reviewers, by the ability to find flaws.
Although it's important to report problems, that approach misses the big picture: how difficult it is, given everything from legislative restrictions to endless budget cuts, to make a world-class vehicle today.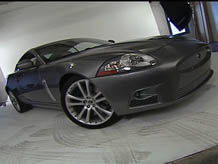 Fortune's Sue Callaway talks with Jaguar's head of design, Ian Callum, about the lines of the new Jaguar XKR Coupe.
Play video

I got that inside view back in 2000, when I joined Ford (Charts, Fortune 500). In my first job I headed straight to Britain, where I was director of marketing for Ford's luxury brands - Jaguar-, Aston Martin, Land Rover, Volvo. Now, reality is that the Midlands, the British brands' home base, is even drabber than Detroit, but at least there was history to whiff - and a dedicated group of Brits trying really, really hard to make beautiful, luxurious, emotional automobiles.
I eventually became general manager of Jaguar North America, and the 2008 Jaguar XKR is the last car I worked closely on. It's also the vehicle that must secure Jaguar's future in the short term.
On the business side, Ford just sold Aston Martin for a cash infusion, and with Jaguar bleeding money (the marque has struggled with profitability for the 18 years Ford has owned it), it only makes sense that new CEO Alan Mulally may well consider selling it too.
On the product side, the XK and particularly the high-performance XKR need to attain pinnacle status and distract the world from lesser Jaguars such as the failing entry-level X-Type.
When I left, design director Ian Callum was doing battle on a few key issues. Many executives and dealers wanted a retractable hard top. Callum was willing to fall on his sword for a soft top - and eventually he won. "A hard top would have forced the rear of the car to be a foot wider - there would have been nothing sexy or sporty about that," he says.
Callum also struggled mightily to move the car's lines into the 21st century, which many traditionalists resisted. His biggest challenge: designing around legislated safety restrictions such as the height of the point where the windshield meets the roofline; and the front overhang and hood height, which are now constrained by pedestrian-protection parameters (I say, look before you cross).
Other debates raged on: Could Jaguar afford an all-aluminum car? Could Jag squeeze enough power out of its 4.2-liter V-8 to remain competitive? Would buyers appreciate the car's E-Type-inspired cues?
Fast-forward four years, and here I am, stepping into a car I knew so well but hadn't seen finished. Experiencing the new XKR in the flesh was a jolt: Callum has done nothing short of put it through a sex change. Where the old XKR was an elegant female - feline, voluptuous - the new XKR is all male. Aggression smolders through the shrink-wrapped body panels; it is the automotive equivalent of a bodybuilder wearing a wet T-shirt. It works. Jaguar's heritage is as a racing and sports car company, so the taut lines are a direct nod to history.
Inside, optional blond wood or aluminum trim feel thoroughly modern. The seats are well bolstered; the carpet is thick. And so is the tire smoke you can create with one good push on the throttle - in most any gear.
What else? Steering-wheel-mounted paddles for shifting (I nearly wept with joy to see that the old J-Gate had finally gone the way of the dinosaur). An excellent and intuitive touchscreen navigation system. Clean, clear gauges. A ride that is invitingly plush yet performance-oriented.
On the road, the XKR's supersmooth supercharger whines into the higher rpms, competing with the throaty exhaust - a symphony of motoring sounds. The car is boldly eager to go fast. But I wish the compromise between luxury and sportiness did not come at the cost of a precise drive-feel. A pure sports car gives you a visceral and direct connection to the road, gearbox, steering, tires, brakes. The XKR is quick but spares you some of that data. If you're a purist, you'll miss it. But most Jaguar buyers will prefer the buttery ride.
There are a few other niggles. I miss the sound the old XK's turn signal made - a very British tick-tock. It had the ring of expensive high heels on a parquet floor. I wish the leather felt more expensive. I wish the gauges still glowed Jaguar-green.
All in all, my former colleagues should be proud. The XKR has moved light-years forward from the last generation. It introduces a fresh design language for the brand. (Critics who think the horizontal bar in the XK's grille looks like a Ford Taurus had better get their history books out - it's pure E-Type; Jag's American owner shamelessly purloined the detail.) It is lighter (yes, all aluminum), stiffer, and quicker than the old car.
Will it fix Jag's ills? No. But it's a hell of a start. Keep 'em coming, Callum. Next, could you please work on a latter-day XJ13?