(Fortune Magazine) -- If you ran one of the biggest companies in the world and you had a chance to change your name and reinvent your brand, you'd probably go with something that had a little personality. Something a tad offbeat. Something that appealed to the savvy youth market. Like Apple, maybe, or Orange.
Or you could go with AT&T.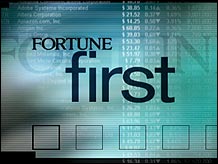 CNN's Richard Lui reports on mobile spam -- spam mail sent directly to your cell phone (April 13)
Play video

That was the choice made by Ed Whitacre, chairman and CEO of the company formerly known as SBC Communications. It was 2005, and he was buying AT&T, SBC's former parent.
Whitacre has spent 17 years doing deals like this, transforming SBC from the smallest of the Baby Bells into the world's largest communications company. He's famous (in telecom, anyway) for gobbling up fellow Bells and pushing the company into new markets - notably broadband and television over phone lines. His most recent high-stakes move: announcing his intention to retire in June and hand over the reins to his chief operating officer and handpicked successor, Randall Stephenson.
Clearly Whitacre has made a long series of shrewd decisions. But seriously, why AT&T? Especially considering that SBC's market value was about five times greater than AT&T's at the time of the acquisition, so taking the name was a bit like France marching into Brussels and renaming itself Belgium.
Not that "SBC" was any great shakes - it sounds more like a collegiate sports conference than a consumer brand, so maybe it's no surprise that its executives were remarkably unbothered about losing that particular abbreviation. "Ed asked the executive team what we thought about taking on the AT&T name," Stephenson recalls. "Everybody agreed. It was an easy answer."
What's really puzzling about the assumption of the new/old AT&T identity was the fact that SBC already had a nice, peppy name up its sleeve: Cingular. In 2006, Whitacre acquired BellSouth, AT&T's joint venture partner in Cingular, the wireless operator. As part of that deal, he also announced plans to jettison the seven-year-old Cingular brand, which by some estimates enjoyed a $2 billion - plus promotional campaign - and a highly effective campaign at that.
With its X-shaped "jack" logo and quirky advertising, Cingular overcame some early quality problems and skepticism about its funky spelling to become a bona fide marketing success story, particularly among young users. "It was one of the few companies in that industry that had developed a 'warm and fuzzy' brand personality," says Hayes Roth, chief marketing officer of brand consultancy Landor. "It was about something more than just a big tele-conglomerate."
So why not use the Cingular name for the whole shebang? Focus groups, surveys, and other internal research showed that most people stubbornly identified Cingular with wireless. Surprisingly, though, people seemed willing to buy a bunch of new services from AT&T (Charts, Fortune 500), from television to broadband to home networking products.
"We learned there is an openness when it comes to the brand," says Wendy Clark, AT&T's senior vice president for advertising. Brand experts will tell you there is some sound, money-saving logic to consolidating under one brand - even when that brand was born during the administration of Chester A. Arthur.
This isn't the first time old has trumped new: About a year ago Delta Air Lines (Charts) discontinued its Song fleet and mothballed the brand, despite suggestions that the whole company might want to rebrand as Song. "Song was the hip, fashionable new brand in the same way that Cingular is," says John Quelch, a marketing professor at Harvard Business School. "Sometimes conservatism is the better part of valor, and it makes sense to stick with the older name."
To let the world know about the de-branding of Cingular, AT&T has started introducing wireless handsets with the AT&T name on them, and on "American Idol," which the company sponsors, host Ryan Seacrest is now reminding viewers to text in their votes using their AT&T - not Cingular - mobile service.
The whole brand shift - the company hopes to have Cingular phased out by the end of the year - will get a massive PR boost next month when Apple (Charts, Fortune 500) introduces its iPhone, which will run exclusively on the AT&T network in the U.S.
Before her latest debut, however, Ma Bell needed a bit of a makeover. To freshen up the logo, the brandmeisters at the new AT&T took the two-dimensional globe, essentially unchanged since the 1980s, and inflated it to a three-dimensional image. The globe got a fresh coat of slightly brighter blue paint, and the corporate name now appears in lowercase letters - advertising shorthand for Slightly Edgy.
The renovation is getting mixed reviews. Marketing gurus like Landor's Roth think AT&T didn't go far enough in reinventing its mark. "It is essentially the same brand," Roth says. "Most people wouldn't know the difference between the logo in 1995 and the logo in 2005."
Ex-AT&Ters think the new branding efforts go too far. Former AT&T communications executive Dick Martin, who oversaw advertising in the late 1990s and early 2000s, says he's heard the new logo compared to a beach ball. One colleague e-mailed him a pointed complaint about the lowercase typeface: "Someone over there fell in love with e.e. cummings."
The only game in town
In the beginning AT&T really wasn't meant to be a consumer brand. For most of AT&T's first 100 years, it was the only game in town. But it didn't advertise, send bills or otherwise interact directly with consumers - that was the province of the subsidiary Bell companies: Michigan Bell, Chesapeake & Potomac, Mountain Bell, to name a few.
The American Telephone & Telegraph name had appeared in some consumer advertising in the early part of the 20th century, but back then AT&T really wasn't promoting its brand; CEO Theodore Vail was seeking to convince the public (and Washington) that AT&T should be a privately regulated monopoly.
Seventy years later the rules changed. The Justice Department brought an antitrust suit against AT&T, and the phone company settled by spinning off its local Bells and opening its long-distance operation to competition from newcomers like MCI.
That meant AT&T would need to promote itself to consumers and businesses alike. Amazingly, "AT&T" wasn't even the company's first choice for a consumer brand. Executives had hoped to use the name American Bell and had even created some advertising and other marketing materials around that name.
But Judge Harold Greene, who presided over the AT&T antitrust suit, ruled that only the local telephone companies, the Baby Bells, could use the "Bell" moniker, with one exception: AT&T could continue to call its research and development operations Bell Labs.
Scrambling, company executives decided at the last minute to go to market with AT&T, which did have name recognition among its wide base of investors. The former monopolists proved to be savvy marketers, spending more than $1 billion a year to build the AT&T brand. It hired legendary graphic designer Saul Bass to design its globe logo, which insiders nicknamed the Death Star.
Its tearjerker commercials inspired people to "reach out and touch someone" - at AT&T's premium prices. The brilliance of the brand was that it was simultaneously modern - consumers throughout the '80s and early '90s consistently associated the brand with innovation - and nostalgic.
But as competition increased, AT&T's core businesses started to erode, and its advertising started to go downmarket. The emotion-tinged ads gave way to jokey spots featuring comedian Paul Reiser. By 2001, when the old AT&T spun off its wireless unit, the AT&T name was so weak that the spinoff actually considered coming up with a new brand (mMode was one name under consideration) to sell wireless phone service.
Going wireless
Now, six years later, executives at the new AT&T think the name works perfectly well for wireless. It turns out the name change isn't just about giving Cingular the gravitas of the AT&T brand.
AT&T, too, hopes that by absorbing wireless into its brand, it will gain some cellular street cred. "AT&T will be seen as a wireless company," says Stephenson. "This is important to me: We are wireless at the core."
As CEO, Stephenson will have to integrate the assets his predecessor assembled. The wireless division has one set of executives, profit goals and customer-service operations; the wireline business has a parallel set.
That's costly, and it also makes it harder for AT&T to sell packages of wireless and wireline services: Who owns that customer? Wouldn't the wireless unit prefer to sell a bunch of broadband wireless minutes rather than AT&T's wired DSL service? "At some point the lines start to blur," Stephenson says, "and then those lines probably go away."
To see the lines blurring in action, one can check out a former Cingular retail location in Houston, which was recently converted into an AT&T "experience store." Created by Callison, a firm that designs Nordstrom's department stores, the store still features plenty of cell phones, but shoppers can also flop in front of high-definition TVs and test-drive AT&T's new pay-television service, which runs over its phone network, or buy DSL.
The store is a brick-and-mortar representation of the empire Ed Whitacre has built. "We want to be the only company for your entertainment and communications needs," Whitacre says. "We have the parts to do it - we just need to execute. It is a worthy goal, don't you think?" Mammoth and ubiquitous. Just like the old AT&T.