(Fortune Magazine) -- Everyone has a dream: Inventing the next great vice. Running a corporation. Traveling into space. Me? I'm searching for a new one, having just had mine fulfilled: driving with Michael Schumacher.
There has never been another race driver, living or dead, to win as many Formula 1 world championships (7), Grand Prix (91 out of the 250 he competed in), or podium finishes (he's placed third or better in 154 races). Schumacher is up there with Tiger Woods and Michael Jordan in terms of financial wins too, making him one of the highest-paid athletes of all time.
Fortune's Sue Callaway sits down with car legend Carroll Shelby and talks about his future, his past and his business sense.
Play video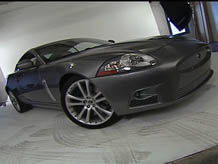 Fortune's Sue Callaway talks with Jaguar's head of design, Ian Callum, about the lines of the new Jaguar XKR Coupe.
Play video

It broke hearts around the world, including mine, to see him retire last year. Says Ferrari president Luca di Montezemolo, who has persuaded Schumacher to stay on the payroll as a technical consultant: "In Formula 1, I've never seen a racer who is able to drive on the limit from the first to the last lap, and never falter."
What would the legend be like in person? What would it be like to drive with him? After months and months of asking, imploring, persuading, and yes, outright begging, I got my wish: the only interview he's granted since retiring.
The setting: Ferrari's 60th-anniversary celebration in June at Fiorano, the company's bucolic private track in Maranello, near Modena.
"Hello, nice to meet you -- I'm Michael," said the German as he threw his leg over the side of the 1947 Ferrari 125 Sport (the first car to carry the Ferrari badge) I was sitting in. Earnest, polite, tanned, cucumber-cool. But I could barely hear him over the din of the crowd pushing around the car. As he edged the 100-horsepower V-12 Barchetta (that's Italian for "little boat") out of the paddock area, I was treated to a faceful of crazed humanity: Two young women brandished a hand-painted WE LOVE YOU, MICHAEL! banner; one flashed her chest.
"I was going to ask you what it's like to be you," I yelled as hands with hats to sign shot past my head, "but now I know." Later Michael told me, "I'm a very balanced person -- I don't take it personally when people don't like me or like me a little bit too much."
We did a few laps in the old car, Schumacher carefully rounding each corner. "I prefer new cars and technology," he shouted over the wind noise. "Plus, I don't want to push because I know how much this car is worth." (A few million is the rough amount.)
Back in the paddock we switched into Ferrari's latest and greatest road car, the 620-horsepower V-12 599 GTB Fiorano. I had a lipstick camera suctioned to the windshield and a huge recording device braced between my legs (I was also filming my story for CBS News' The Early Show; go to cbsnews.com to see it) as Michael piloted us back onto the track.
Once there, he lit it up in every sense: The tires squealed as he held the throttle in a wide-open stranglehold; the chassis was instantaneously g-forced to its limits. Flying through the first sweeping corner, Michael slid the howling car toward the wall on the exit.
I asked him to define his driving style. He said, "I like to push a machine beyond its limits right away -- and then ratchet it back from there."
The next ten laps were a cocktail of face-sucking speed, neck-snapping braking -- and tire smoke. Lots of it. In fact, Michael, smiling, stopped midtrack and began to whip the 599 around in a series of 360s more intoxicating than any liquor. All I could do was grin. In fact, by the end of the fifth or sixth doughnut, the Pirelli smoke was so dense I couldn't see the track.
Afterward we drove to Enzo Ferrari's house, which stands in the center of the property. As we alighted, our cameraman, ashen, came running up. "Something was wrong with the in-car camera -- nothing recorded."
A deafening silence fell. After a beat, Schumacher calmly said, "Don't worry -- we can go do it again." If anything, our second set of hot laps was even more scorching than the first. He finally said, "I'm sorry -- maybe you are feeling sick? Just tell me when you get fed up."
My answer was immediate: "Sometime late tomorrow?" He shot me a huge grin, acknowledging a kindred adrenaline junkie.
His grand finale: a pendulum-like series of 180s performed around the tip of a hairpin turn. I watched in awe as the guy swung the car from one direction, inches from the track's edge, to the other -- again inches from the lawn.
Since The Day, many people have asked me, "Was it great?" To which I must counter, Can Pavarotti sing? Is Warren Buffett loaded? Does Dolly Parton sleep on her back? I have driven with many legends, but I've never seen such calm genius at work.
Nor have I seen anyone delight so completely in high-speed antics. Going forward, Ferrari hopes to draw on his enlightened, well, seat of the pants to make its gems even more technologically sophisticated and intricately faceted. In other words, the spirit of Michael will inhabit every Ferrari, meaning a joy ride with him can be yours for the price of the car.
I may have found my new dream.
On CBS.com: