Three leaders use innovative strategies and rewards to motivate employees.
(FSB Magazine) -- You can offer all the benefits in the world, but the one that matters most to employees is a piece of the action.
Of the 18 honorees in Winning Workplaces' fourth annual Best Bosses competition, 14 run companies partly or completely worker-owned.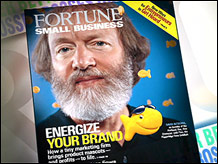 Good bosses are as important as any other perk in a company. An exclusive FSB report. (September 28)
Play video

That reflects a broader trend. The National Center for Employee Ownership estimates that 9,225 companies were offering stock-option plans, stock bonus plans, and profit-sharing plans as of July, up from 7,600 in 1999.
Winning Workplaces is a nonprofit in Evanston, Ill., that helps small-business managers improve their communication skills to make workers more productive and happier.
It assembled a team of respected judges, who culled the 80 applicants by looking at factors such as employee satisfaction ratings and by interviewing workers. The result? Eighteen Best Bosses - 17 from commercial companies and one from a nonprofit.
From companies that offer free gourmet dinners during crunch times to a boss who lends top performers the keys to his convertible, see five of the winners and what makes them stand out.
________________________________
For a complete list of winners, go to winningworkplaces.org.
Also see Fortune's Best Companies to Work For. Winners include: Genentech (Charts), Cisco (Charts), Microsoft (Charts), Amgen (Charts) and Intel (Charts).

To write a note to the editor about this article,
click here
.