(FSB Magazine) -- I drove a Lexus for the first time on the German autobahn at 150 miles an hour. The year was 1989, and Lexus was launching in front of U.S. journalists.
For the unveiling of the latest Lexus flagship sedan, the 2007 LS 460, my introduction was a lot less dramatic: It came on the leafy streets and well-policed highways of the New York City suburbs. But that didn't seem to matter. Quality and craftsmanship, not speed, are what have propelled Lexus to become the bestselling luxury brand in the U.S. - and made it a classy, comfortable car for meeting and chauffeuring clients.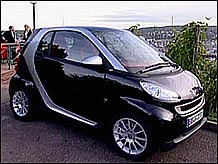 DaimlerChrysler is bringing a changed Smart Car to North America. CBC's David Common reports. (November 25)
Play video

Because it competes with top-of-the-line models from Audi, BMW, and Mercedes-Benz, the LS 460 is crammed with enough new technology to claim bragging rights.
The eight-speed automatic transmission - nobody else's has more than seven - delivers smoother shifts and improved fuel economy. A user-friendly navigation system provides real-time traffic information with alternate routes around bottlenecks. And a much-promoted hands-free parking system gauges the size of the space using sensors and turns the wheel to guide the car into it. The driver controls the speed of the process with the brake pedal (although if you try to park on an incline, as I initially did, it won't work).
As with most Lexus models, the LS 460 is loaded with thoughtful details. As you approach the car, the key signals a sensor in the door to set the interior lights aglow. And sensors in all four tires - plus the spare! - trigger a warning light when air pressure is low.
Still, a charisma transplant wouldn't hurt. The exterior sheet metal lacks chrome trim, while inside the leather seat coverings don't have any piping or exposed stitches - admirable restraint to some, plain and uninspired to others.
Lexus designs famously quiet cars, but this one is almost too quiet. Passengers are sheltered from obtrusive noises, but also from the mechanical music of its V-8 engine.
The 380-horsepower motor propels this sedan to 60 miles an hour in 5.4 seconds - faster than a Porsche Boxster - and gets 27 mpg on the highway. That kind of performance deserves more aural fanfare.
The LS 460 began arriving at dealerships in late fall at a starting price of $61,000. Considering all the new technology, that's nearly as good a value as the original 1990 model, which cost $35,000 ($57,500 in today's dollars). Yet my emotions remained curiously unmoved. Perhaps I missed the autobahn more than I thought.
------------------------------------
Mileage Plus: Practical fuel economy

To write a note to the editor about this article,
click here
.