(FSB Magazine) -- Every few months, it seems, another wistful suitor pays a visit to the Raleigh offices of Robin Smith, founder and president of Biologics. Sometimes it's a rival, hoping to buy her out. Sometimes it's a larger medical company, hoping to add Biologics to its subsidiaries.
Whatever the case, they all take basically the same approach: praising Smith's disciplined focus on her niche of selling cancer drugs, her distinctly homey brand of customer service and her profitable company's revenue, which last year rose 275 percent, to $45 million a year.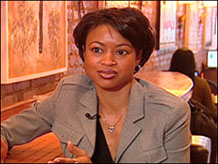 Female owned small businesses have seen a significant rise over the past few years. Fortune Small Business Magazine talks with one owner about the challenges she faced when starting a juice bar.
Play video

Smith, 46, is flattered by the attention, but she invariably declines the advances. "It's not that I don't want to scale this business model," she says. "But I want to find a way to grow without losing our personal touch."
After all, how many big chain pharmacies send handwritten notes of congratulations to patients who just completed a successful round of chemotherapy? Or send an employee to deliver a much-needed drug prescription to a patient's vacation home on a weekend evening? Or jostle with an insurance company over reimbursement?
Biologics (biologicstoday.com) is a different kind of pharmacy, hired by oncologists to take care of their patients' drug needs. There are no Biologics storefronts; its pharmacists send medications to patients' homes. It stocks only cancer drugs, and it takes an active role in managing patients' care - making sure that they take medications at the right time and checking in to see if they experience any side effects.
Biologics hires only pharmacists who are experts in cancer care, and they help patients navigate the tricky, individualized world of dosages and schedules, a task that once fell to overstressed hospital staffs. "It makes my job easier," says Robert Wehbie, a Biologics customer who works as an oncologist in Raleigh. "I know that patients are getting their drugs without any of the hassle they might get from a drugstore at the mall."
Smith - a veteran of the pharmaceutical and home-health-care industries - first got the idea for a cancer-focused pharmacy in 1994. Cancer, she realized, is an umbrella term that refers to some 300 diseases, each of which must be treated differently. New biotech products had recently entered the market, but they often were effective only in combination with other drugs, and each came with clinical guidelines and individual treatment programs.
Smith envisioned a one-stop shop geared toward not only helping patients deal with the unique emotional stress that attends their disease but also monitoring the increasingly individualized drug protocols prescribed by oncologists. So she cashed out her 401(k), sold her house, and took out a $50,000 line of credit. (Her banker had a daughter who had recently been diagnosed with cancer, which Smith says helped her secure the sizable loan.) Biologics was born.
The conditions that Smith identified a decade and a half ago have grown only more complicated, and the demand for cancer-drug specialists has increased correspondingly.
According to the trade group Pharmaceutical Research and Manufacturers of America (phrma.org), 646 of the drugs currently in the FDA pipeline are cancer drugs. And a study by IMS Health, a health-care information services and consulting company in Plymouth Meeting, Pa. (imshealth.com), projects global oncology drug sales to more than double by 2010, to $65 billion a year.
"As these pipeline products enter the commercial marketplace, we'll see even more rapid growth in our business," says Karen Freeman, executive vice president of Biologics.
But Smith isn't waiting patiently for that day. Last year she expanded the firm's customer base beyond hospitals to self-insured employers, signing up companies such as Blue Ridge Paper Products and J.P. Farley, a health plan administrator. The appeal for employers is obvious: Although making up a small percentage of the workforce, cancer patients account for as much as 15 percent of all medical expenses in a health plan.
Biologics helps employees manage their drug regimen from the office rather than have to trudge to a hospital - and run up doctor's fees - whenever they need adjusting. Says Smith: "We can suddenly go from 100,000 to three million covered lives with the stroke of a pen."
Next year Biologics expects contracts with self-insured employers to account for nearly 25 percent of revenues, compared with 15 percent this year. And Smith says that despite her fears, it's time for her firm to grow up: "This company is not an infant anymore, but more of a gangly adolescent that needs to make the right decisions as it matures."
Are you thinking of starting a business? Got a question about financing, technology, taxes, team management, or any other topic related to launching or owning your own firm? Ask the editors of Fortune Small Business, and they'll help you get answers from the appropriate experts.
----------------------------
Cheaper generic-only drug plans

To write a note to the editor about this article,
click here
.