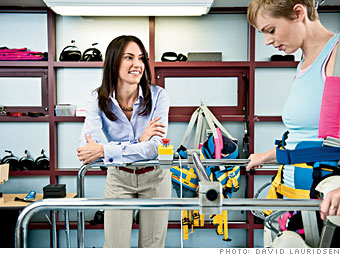 Lichy, a therapist for 10 years, says "every day is exciting and challenging."
Top 100 rank: 4
Sector: Health Care
What they do: Assess and treat people with physical conditions that limit their movements or ability to perform daily activities. Help with pain management and surgical rehab. Longer life spans and a wave of aging boomers have already created a PT shortage.
What's to like: Few jobs are so rewarding: A stroke patient begins to walk and talk. A tennis player with a sprained wrist gets back on the court. "I love helping patients enjoy life again," says Alison Lichy, 34, who specializes in neurological conditions such as spinal cord injuries at her practice in Alexandria, Va. Entrepreneurial types like Lichy can set their own hours.
What's not to like: The job can be emotionally and physically draining. Practitioners fear that health care reform's emphasis on cost cutting may jeopardize insurance reimbursements.
Requirements: Three-year graduate degree and a state license.