RESEARCH A CAR
Get invoice and market prices, specs, reviews and photos

GET A QUOTE

RESEARCH A USED CAR
Get used car pricing, reviews, ratings, and more.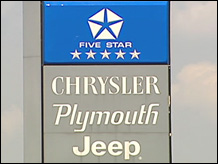 DaimlerChrysler will match General Motors' discounts if GM extends the promotion. CNN's Andy Serwer reports. (June 29)
Play video

NEW YORK (CNN/Money) - You might be one of those car shoppers who is salivating over the crop of cars just sitting at your local General Motors dealership. Maybe it's the cyclone grey metallic 2005 Pontiac GTO.
What's more, you're lucky enough that your new car purchase plans coincide with GM's new incentive program offering the "Employee Discount."
While that may sound like a great deal -- and in many cases it genuinely is -- buyers who negotiate can still get even better deals, especially on less popular models.
In an effort to inject new life into vehicle sales, on June 1 General Motors unveiled its latest incentive program called "Employee Discount for Everyone", in which, the company boasted, "You pay what we pay".
The combination of rebates and discounts, which covers nearly all 2005 GM cars, including Chevrolets, Saabs and Hummers, allows buyers to take home a GM vehicle at prices ranging from three to four percent below the dealer's invoice price. The Chevrolet Corvette and Hummer H1 are not included in the program.
So far, consumers and dealers appear to have embraced the discounts. GM is on pace to post its best sales month in four years, and dealers are lobbying the automaker to extend the promotion through July.
"Overall, people are generally getting better deals than in the past," said Mike Chung, an auto pricing analyst for Edmunds.com. "I would say, for the most part, it is (a better deal) because it makes the negotiation process a lot simpler."
Edmunds.com provides data and content for CNN's automotive Websites.
There are some vehicles that, even without any negotiation, are selling at far better prices than you could have gotten before, said Mark McCready, the director of pricing strategies and market analysis at CarsDirect.com, an online car shopping Website.
Vehicles such as the Chevrolet Silverado diesel or Cadillac XLR convertible, both of which usually sell at close to sticker price, are now available at prices you couldn't have gotten through negotiation a month ago, says McCready.
The Silverado sold, on average, for $34,739 in May. Under the employee discount program however, consumer could buy the same vehicle for $31,423 -- a savings of $3,316.
But recent pricing trends on GM vehicles indicate that buyers are taking the "no negotiation" approach even on cars that aren't such great deals.
According to pricing data from Edmunds.com the difference between sticker price and the amount customers actually pay has become nearly the same for all GM cars, whether they are desirable, like the Cadillacs, or cars that usually sell at deep discounts, like the Pontiac Sunfire.
That means that, on unpopular models, buyers could be paying much more than they need to.
Discounts on some vehicles such as the four-door GMC Yukon or the Chevrolet Malibu are not that enticing compared to prices those cars usually sell for, said McCready.
An important point to remember about the so-called "Employee Discount" is that it is still, in most cases, involves a rebate. Particularly on a car that's not in peak demand, that opens room for negotiation.
The smart move is always to negotiate solely on the price of the car, ignoring the amount you pay after the rebate. What you want to discuss is, how much does the car dealer need to get for this car?
Once that number is nailed down, then look at how much the rebates have further reduced your purchase price.