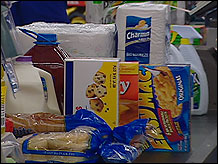 Consumers are looking for ways to alleviate higher gas prices. CNN's Allan Chernoff reports (August 23)
Play video

NEW YORK (CNN/Money) - To cope with rising gas prices, some people are driving less -- or changing vehicles.
Some are cutting back elsewhere in their budgets. Some are taking more drastic measures.
And with gasoline rising to an average of about $2.60 a gallon -- and oil prices staying high -- it doesn't look like prices at the pump will retreat anytime soon.
CNN/Money invited readers to write in and share stories about how they are coping.
Below are Thursday's selections. (See gripes from Tuesday and Wednesday.)
It's about the music, man..."I am in a band that just got signed to a independent label and we are about to start touring. Because gas prices, if we don't sell merchandise, we don't eat." -- Tavis W.
Cutting back on EVERYTHING..."I've done the following: quit eating out; wearing anything that needs dry cleaning; I'm doing my own hair; canceled the newspaper subscription (I read it online); not renewing any magazine subscriptions; had the "home" phone turned off, just using my cell phone (cut back on minute plans)....whatever it takes!!!" -- Mel
A new thief in town..."Recently I received a call from my credit card company to report a number of fraudulent charges. Can you guess what the thieves charged? Gasoline, of course! Go figure!" -- Carol C.
Brown bagging..."I used to spend $7 per day for lunch or $35 per week. Now I take lunch to work and it costs about $3 per day ( $15 per week). The extra $20 savings is shifted to the tank. I'd rather put that savings into my 401(k). Also I stopped going to Starbucks and lowered my Lottery ticket purchases." -- Mark S.
Extreme measures...? "I've had to switch from Charmin to newspaper." -- Stacey
Trading down..."I traded in my BMW for Nissan Altima 2.5S because gas prices are making me sick to my stomach. I'm from Yonkers, N.Y. and finding a gas station with the lowest price is like striking gold. If I find one, it's just funny how reality bites: Porsche, BMW X5, Ford Mustang, Mercedes are all lined up for the cheapest gas station in town!
Loving the bug..."I am doing quite well with gasoline prices at record levels. More than two years ago I purchased a 1974 VW standard beetle with a 1600CC engine in anticipation of rising gas. My daily round trip commute is 52 miles and I get 36 miles to the gallon with my bug. My cost for filling up the fuel tank is $21. FYI: I sold my gas guzzler on 8/1/05." -- Max D.
Walking off the job..."Because of the rise in gas prices I had to leave my job. I worked on the east side of Detroit and lived about 85 miles away. I have had to make the decision the leave a good job to look for local employment that probably wont pay more than $9 an hour. Also because of the gas prices I cannot afford to drive to and from college so I have chosen to take all online classes, which is a big disappointment. -- Justin E.
Check back for more reader responses. And send us your story at gasprices@cnn.com.
------------------------
Click here for some safe cars that save on gas.
Click here to read about the new fuel economy rules.
Wanna bet on $3 gasoline? Click here.