Troubled automaker is cutting costs faster than expected, but is the ride over for the hottest Dow stock of 2006?
NEW YORK (CNNMoney.com) -- General Motors stock had a nice run this year as the troubled automaker worked hard to cut costs.
The question now is whether the stock's best days are behind it.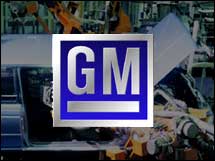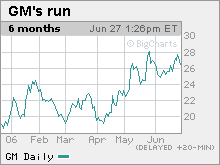 Autos
| | |
| --- | --- |
| 36 month new | 5.91% |
| 48 month new | 5.98% |
| 60 month new | 6.03% |
| 72 month new | 3.78% |
| 36 month used | 6.31% |
GM shares have put in the best performance of the 30 stocks in the Dow industrials this year, up 43 percent as of Monday's close.
The rally came after GM reached agreements to cut health care costs last fall, slashed its dividend in half, and laid out a plan to close plants and cut its work force by offering buyout packages worth up to $140,000 to workers.
GM said late Monday it was raising its cost-cutting target by $1 billion a year after more union workers than expected, 35,000, accepted the buyout and retirement offers.
CEO Rick Wagoner also said he believed that 12,600 workers taking buyouts at Delphi (Charts) had reduced the chance of a strike at the bankrupt parts maker.
A strike at Delphi would probably have shut GM down and could have forced the world's largest automaker into a bankruptcy filing of its own.
But GM (down $1.54 to $26.21, Charts) stock sank Tuesday despite Monday's news.
Part of that was a sales update in which a top GM executive described June sales as being "especially brutal" in comparison to record sales a year ago, when the company introduced "employee-pricing" to help clear out 2005 models from its lots.
But a sharp drop in June sales was practically a given, even if GM hadn't been struggling with $3 gasoline and a shift away from more lucrative SUVs and pickups to cars, which get better mileage.
One analyst said Tuesday that he thought at least part of the selling was due to investor worry that virtually all the good news on cost cuts is now out, and that future gains for the stock will have to come from a much more difficult achievement - GM turning around its sliding market share.
"The low-hanging fruit for the stock that came with cost cuts was out there, and to give them credit, they went out there and picked it," said Kevin Tynan, auto analyst at Argus Research, who has a sell rating on GM shares.
"But at some point when the low-hanging fruit is picked, they've got to be an automaker again," he added. "There's some question about whether they'll be able to do that."
One frequent GM critic in the analyst community, Banc of America's Ron Tadross, reiterated his sell recommendation on GM shares Monday night, even as he changed his earnings target to project 2007 earnings per share of $1.85, up from his earlier estimate of a 40 cent a share loss next year.
"We are raising our EPS due to the quicker than expected headcount reductions, but think GM could not afford another similar cost reduction plan if share loss continues (as we expect)," he wrote in a note to clients Monday.
Tadross has a $23 12-month price target for the stock.
Still, GM does have some fans on the Street.
Prudential Securities Michael Bruynesteyn raised his recommendation to an "overweight" from a neutral rating at the end of May, and he reiterated that recommendation Monday evening.
He has a $32 12-month price target for the stock, which would give it roughly another 20 percent rise from Tuesday's midday trading levels.
Bruynesteyn cautioned that even with the bigger-than-expected number of hourly employees leaving GM, the company could still be bleeding cash, excluding things like depreciation.
"Still...we are encouraged that the incremental headcount reduction achieved with the attrition plan does translate to real cash savings," he wrote in his note to clients.
Related: Is the worst over for GM?