NEW YORK (CNNMoney.com) -- A key inflation gauge showed no rise in prices in November while Americans' incomes and spending both rose, but came in a bit lighter than expected.
Spending by consumers increased 0.5 percent, the Commerce Department said, up from a revised 0.3 percent rise in October. Economists surveyed by Briefing.com forecast a 0.6 percent rise.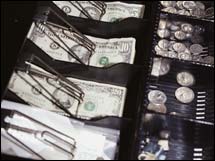 Personal income grew 0.3 percent, the same as October's revised reading. Economists had forecast a 0.4 percent rise.
But the big news in the report was that two key inflation measures showed prices unchanged from October.
The so-called PCE deflator, which measures prices paid by individuals, and the core PCE stripping out food and energy were both flat last month. The closely watched core reading showed less inflation pressure than the 0.2 percent rise in October.
The core PCE was up 2.2 percent from a year earlier, down from a 2.4 percent year-over-year gain in October.
The core PCE is widely considered a favorite inflation gauge for the Federal Reserve, which is said to prefer year-over-year gains of 1 to 2 percent. So the report raised hopes that perhaps the Fed was moving closer to starting to cut short-term interest rates.
"It's not sufficient for the Fed to cut yet. But we're moving in the right direction," said Jeoff Hall, chief U.S. economist for Thomson Financial. "Inflation's not dead, but you knocked a couple of the fangs out of it."
Still Hall and Rich Yamarone, director of economic research at Argus Research, said that the spending levels in the report, while a touch lower than forecasts, shows that consumers were willing to keep spending at a level that removes the need for a Fed rate cut to spur the economy.
"The Fed can't possibly think about trying to stimulate the economy with this robust spending," said Yamarone. He said that while the inflation threat is dormant right now, continued spending gains could "awaken it from hibernation."
The report shows that one way consumers have kept spending is by having a negative savings rate for the 20th straight month.
The savings rate, which compares individuals' after-tax income to their spending on a full-range of goods and services, was negative 1.0 percent, meaning the typical household was spending $101 for every $100 of take-home pay last month. That compares to a revised negative savings rate of 0.7 percent in October.
Americans spend every cent -- and more