NEW YORK (CNNMoney.com) -- Worried about bird flu? If Sanofi has its way, America could soon be getting its first FDA-approved vaccine.
Advisors to the Food and Drug Administration will meet Tuesday to vote on the safety and effectiveness of Sanofi-Aventis' (down $0.09 to $43.69, Charts) experimental vaccine for bird flu, also known as H5N1. When the FDA decides at a later date whether to approve the French drugmaker's vaccine, it will take this vote into consideration as expert advice.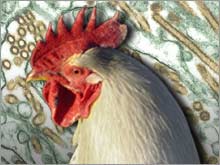 Bird flu has killed more than 160 humans, mostly in Asia, or about half of the people who have contracted it. But so far, its primary victims have been birds, in which the virus is highly contagious. Poultry has been culled by the millions in parts of Asia and Europe in an effort to control H5N1. Most recently, the virus has appeared in Moscow.
Bird flu has not reached the United States, and is not currently transmitted between humans. However, some experts fear that the virus could mutate and become a pandemic that can be passed from human to human, like the 1918 pandemic that killed up to 50 million people and is believed to have originated in birds. World-renown bird flu expert Dr. Robert Webster of St. Jude Children's Research Hospital in Memphis estimates a 50 percent chance of a bird flu pandemic.
Vaccines are generally considered to be the best way of warding off bird flu, because they're preventative. However, drugmakers won't be able to develop a precise vaccine against bird flu unless it actually mutates into a pandemic strain.
"We don't actually know what the genetic makeup of the virus will be, as it's not yet mutated into being able to [transmit] from man to man," said Michael Leacock, analyst for ABN AMRO.
"We think it's the right decision to be building a stockpile with what we think will be the right strain," said Sanofi spokesman Len Lavenda. "[But] we're not sure, if there's a pandemic, that this is the strain that would be responsible for the pandemic."
Sanofi's bird flu vaccine is the first to make it this far in the FDA regulatory process, though the drug Tamiflu has been FDA-approved since 1999. Tamiflu, which is produced by the Swiss drug giant Roche (down $1.75 to $90.65, Charts), is not a vaccine, it's an anti-viral treatment that is taken after infection by H5N1 and other strains of influenza.
The demand for Tamiflu has been so high that Roche hasn't been able to manufacture enough of it, and the company's shares have tripled since 2003. Tamiflu could some day be competing with another experimental anti-viral called Peramivir, which is being developed by BioCryst.
British drugmaker GlaxoSmithKline (up $0.41 to $56.77, Charts) is working on its own experimental bird flu vaccine, which was submitted to European regulators on Jan. 29. In October, the Swiss government signed a contract to buy 8 million doses of this vaccine. (The value of the contract was not disclosed.)
The chicken and the egg
The U.S. government has poured hundreds of millions of dollars worth of contracts into companies that are working on developing vaccines and faster ways of creating them. Since the 1960s, vaccines have been cultured in eggs, but this is a time-consuming process and therefore undesirable. Rapid manufacturing of the bird flu virus vaccine is considered even more important than stockpiling, since the pandemic strain that would need to be targeted remains unknown, and couldn't be manufactured until an outbreak occurs.
"The chicken and the egg is a phrase that unfortunately is pretty apropos here," said Leacock of ABN AMRO. "Everyone's working very hard to get a cellular-based way to produce vaccines, rather than eggs."
Sanofi and other drugmakers are developing quicker ways to produce vaccines in DNA cultures. Seasonal flu vaccines, as well as bird flu vaccines, could be produced through this more advanced method. Leacock of ABN AMRO said that the Swiss drugmaker Novartis (up $0.53 to $58.42, Charts) (the recipient of a $55 million HHS bird flu grant in January) is probably the closest in terms of cellular-based production in Europe, and the company is building a plant in North Carolina.
A government-fueled industry
But for right now, the vaccine market for bird flu is being supported by government contracts.
"This is a project that we've been working [on] very closely with the government, and quite frankly we see the U.S. government as the only customer," said Lavenda of Sanofi.
In November of 2006, Health & Human Services awarded Sanofi with nearly $120 million to manufacture 3.7 million doses for its strategic national stockpile. (At that time, the HHS also awarded Novartis and GlaxoSmithKline with $40 million each to produce 800,000 doses.) This is in addition to the $100 million contract awarded by HHS to Sanofi in 2005 to develop a bird flu vaccine. As part of the production ramp-up, Lavenda of Sanofi said his company is planning to start a new plant in Swiftwater, Penn.
Meanwhile, Glaxo is investing $2 billion to expand its flu vaccine manufacturing capability, including the acquisitions in 2005 of the biotechs ID Biomedical and Corixa Corp., as well as the purchase from Wyeth (down $0.19 to $50.07, Charts) of a manufacturing plant in Marietta, Penn.
To help develop a bird flu vaccine, Glaxo has also received hundreds of millions of dollars in U.S. government contracts. This includes a $63 million contract from HHS awarded on Jan. 17 to develop a pandemic flu vaccine with an adjuvant that would boost its potency, and a $40 million contract in November, 2006 to supply vaccines for the strategic national stockpile. In May of 2006, HHS awarded Glaxo a $274 million contract to develop a cell culture-based method of manufacturing vaccine that would speed up the slower egg-based process.
With all this government-fueled production going on, Gbola Amusa, analyst for Sanford C. Bernstein, said that the vaccine industry runs the risk of becoming flooded with product.
"Right now it's an urgent need, but you're going to see an excess in capacity in five years," said Amusa.
But if a pandemic strikes, the vaccine maker with the most to gain could be the one with the closest strain, said Leacock of ABN AMRO
"What matters is not who's most advanced now, because we don't know the precise makeup of the virus," said Leacock of ABN AMRO. "What matters is who's got the right vaccine at the right time."
The analysts interviewed for this story do not own shares of company stocks mentioned here, though ABN AMRO has provided corporate advice to Glaxo.
Drugs and fear: a new bird flu flurry
Drugmakers get $1 billion for bird flu