NEW YORK (CNNMoney.com) -- Who knew that Wall Street could get this excited about a bunch of guys in superhero costumes?
With an impressive opening weekend at the box office for "Ghost Rider" and the third installment of the popular "Spider-Man" series hitting theaters in May, it's easy to see why there's a lot to love about comic book company Marvel Entertainment.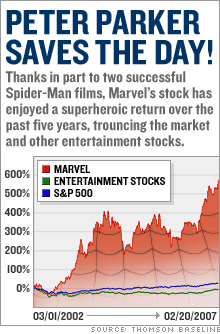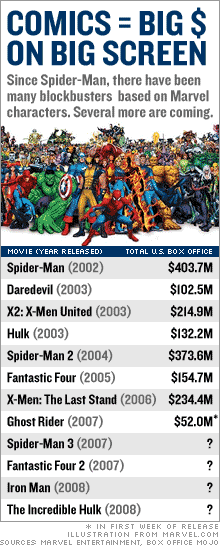 Spidey and Ghost Rider are both Marvel characters, and the company gets a cut of the box office for films based on its comic books.
This year alone, Marvel (up $0.02 to $30.49, Charts) shares are up about 13 percent, building upon the heroic run the stock's had since the release of the first "Spider-Man" film in 2002.
Investors will soon get a better idea of how the company is faring when it reports earnings for the last quarter of 2006 on Monday.
Marvel is expected to report profit of 10 cents a share on $72.5 million in revenue, according to analysts surveyed by Thomson First Call - a big drop from 33 cents a share and $117 million in sales a year ago.
But 2007 is what really matters, and it's expected to be a banner year for New York-based Marvel. Profits are expected to more than double, to $1.47 a share, based on consensus estimates.
Still, trouble may be lurking. Some analysts say the stock is already factoring in the hype about "Spider-Man 3," while Marvel is about to undertake a big gamble by bankrolling many of its future films, instead of partnering, as it has in the past, with a major Hollywood studio.
'It's clobberin' time!'
It may be Marvel's performance at the box office that always seems to grab headlines, but the company's publishing business has also done well.
Its publishing division, typically known for slow, steady growth, booked revenue gains of more than 10 percent in the most recent quarter, helped by expansion into big chain bookstores Borders and Barnes and Noble and the success of such titles as "Civil War."
Toy sales, which have also been a big driver for the company, should only improve after Marvel kicks off a new deal with Hasbro (up $0.17 to $29.65, Charts) this spring, after ditching its previous partner Toy Biz Worldwide.
"I think it should certainly improve the business on the toy side," said Michael Kelman, an analyst with Susquehanna Financial Group. "Hasbro has a much broader international reach in terms of distribution and that should bode well for them."
But it is Marvel's licensing business that is really a money minting plant for the company. Right now, more than 50 percent of Marvel's sales and profits come from licensing the rights to its characters for use in movies, television shows, video games and other merchandise.
And if Marvel can successfully manage its stable of more than 5,000 characters, there is the potential for more and possibly bigger licensing deals, said Joe Hovorka, an analyst with Raymond James & Associates, pointing at the success Walt Disney Co. (up $0.02 to $35.16, Charts) has had promoting its cartoon characters.
Marvel gets ready for its close-up
It only took a couple bungled partnerships with Hollywood, but Marvel has finally realized its characters could be a celluloid goldmine.
Up to this point, Marvel has partnered with major Hollywood studios, getting anywhere between 2 and 7 percent of box office receipts. Sony (Charts), for example, is the studio behind "Ghost Rider" and the "Spider-Man" films.
But that's about to change as the company will both finance and produce its own films, starting with next year's "Iron Man" and "The Incredible Hulk."
If successful, Marvel would no longer have to share the box office or DVD revenue with another studio.
But if the endeavor fails, Marvel stands to lose the theatrical rights to characters used in its upcoming films since the company used them as collateral for a $525 million financing deal.
Still, even if Marvel can't hack it in Hollywood, they can continue to put out comic books based on its characters or skip the big screen altogether and go direct to DVD with its films.
"The way they have it structured, they were really able to take out a lot of the risk and still maintain the upside," said Steve Roberts, director of research for the Troy, Mich.-based money management firm NorthPointe Capital, which recently sold its stake in Marvel to cash in on some gains in the stock.
And then there's the web slinger.
Right now, most of Wall Street is expecting "Spider-Man 3" to blow away the box office after the first two films pulled in $403.7 million and $373.6 million in the U.S. alone.
Susquehanna's Kelman, who has a positive rating on the stock, admits that some of those expectations have nudged up the stock. But investors also realize there will be some fierce competition for box office dollars this summer as "Shrek the Third" and the latest "Pirates of the Caribbean" are both slated for release later in May.
"It's a relatively crowded line up for family friendly feature films right around that time," said Kelman. "I think that's baked into expectations as well."
Swing ahead on Marvel
Since 2006 was largely a transition year for Marvel, the comic book publisher probably won't wow Wall Street when it reports its fourth-quarter results.
Right now most analysts seem to believe the stock is fairly priced but that there is some upside, particularly with the release of "Spider-Man 3" and a "Fantastic Four" sequel on the horizon.
Marvel shares currently trade at roughly at 11 times estimated earnings before interest, tax, depreciation and amortization (EBITDA), which seems reasonable when compared to other small media stocks like Lionsgate (up $0.04 to $11.53, Charts) or Playboy (up $0.04 to $10.64, Charts), said David Bank, an analyst with RBC Capital Markets.
"For a small-cap media company it's not overwhelmingly expensive," Bank said.
Certainly, Marvel's ability to produce its own films remains a concern and investors should prepare for more volatility in the stock.
But Marvel's core businesses continue to drive growth while its studio venture, albeit a notable risk, will substantially increase the company's profit margins if they can mimic the success they had at the box office with other characters.
Sure, there are naysayers who believe Marvel has already milked its marquee comic book characters. But the company still has not tapped some of the more well-recognized characters in the Marvel universe, including Captain America, Thor and Nick Fury.
And while many have argued that comic book movies are a fad and that people will grow tired of them, Bank points to the success of NBC's breakout television hit "Heroes" this year as evidence that people are still interested in comic book-inspired stories.
"This is a genre that goes beyond 12-year-old boys," said Bank. "It's a popular culture phenomenon."
None of the analysts or experts quoted in this story own shares of Marvel Entertainment. None of the firms have an investment banking relationship with the company.
---
A 'Hero's' predictions for 2007
Old media isn't dead