NEW YORK (CNNMoney.com) -- BioCryst signed a licensing agreement with the Japanese biotech Shionogi for the development of peramivir, one of the most advanced experimental treatments for bird flu.
The licensing deal gives BioCryst Pharmaceuticals (Charts) a $14 million up-front payment, with potentially more than $100 million in other payments and up to 20 percent royalties on Shionogi & Co's. anti-viral drug sales in Japan.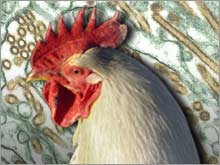 BioCryst's stock price jumped more than 6 percent on the news.
If peramivir gets approved by the Food and Drug Administration, it could some day rival the bird flu anti-viral Tamiflu produced by the Swiss drug giant Roche and the biotech Gilead Biosciences (down $0.21 to $69.78, Charts). GlaxoSmithKline (up $0.61 to $54.58, Charts) also produces a bird flu anti-viral: Relenza.
BioCryst, based in Birmingham, Ala., is one of the most active companies in developing potential treatments for the notorious H5N1 strain of bird flu, which has decimated bird flocks in Asia and Europe and led to at least 160 human deaths. Some bird flu experts fear that the H5N1 virus could mutate into a form that is contagious among humans, possibly leading to an outbreak like the 1918 pandemic that killed as many as 50 million people.
Health and Human Services awarded BioCryst on Jan. 4 with a $102.6 million grant for the development of peramivir for the treatment of bird flu and seasonal flu. But many experts believe that a vaccine -- not an anti-viral - is the best way to deal with the threat of a pandemic.
An FDA advisory panel on Feb. 27 recommended the approval of an experimental vaccine from the French drugmaker Sanofi-Aventis (up $0.61 to $42.25, Charts). If the agency takes the advice of its experts and approves the product, it would be the first FDA-approved bird flu vaccine. The government has already begun to stockpile it.
Kleiner Perkins risky bet on bird flu
Iomai CEO: patch could boost bird flu vaccine