NEW YORK (CNNMoney.com) -- UnitedHealth Group, the No. 2 health insurer in the U.S., announced plans to buy Las Vegas-based Sierra Health Services in an all-cash deal valued at $2.6 billion.
Minneapolis-based UnitedHealth (Charts) said it hopes the move will position it for expansion in the Southwest while broadening the services it can offer in the fast-growing senior patient market.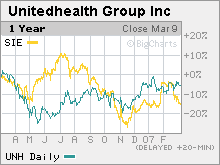 "The combined enterprise will have the scale, resources and commitment to offer the most comprehensive range of affordable services to our clients in the Southwest, as well as for clients with business interests across the country," said UnitedHealth president and CEO Stephen J. Hemsley in a statement.
Sierra serves about 310,000 employer-sponsored health plan members in Nevada and 320,000 people in senior and government programs throughout the U.S., UnitedHealth said.
After the merger, Sierra's founder, chairman and CEO, Anthony M. Marlon, will continue to oversee operations in Nevada, according to UnitedHealth.
UnitedHealth's 2006 revenues were $71.5 billion while Sierra's 2006 revenues were $1.7 billion.
In addition to buying Sierra (Charts), UnitedHealth also reaffirmed plans for a $4 billion-$4.5 billion share repurchase plan in 2007.
UnitedHealth serves about 70 million people through six companies: UnitedHealthcare, Ovations, AmeriChoice, Uniprise, Specialized Care Services and Ingenix.
UnitedHealth competes with Aetna Inc (Charts). and No. 1 ranked WellPoint (Charts).
-------------------------------------------------
Dollar General to be acquired by KKR
Goldman Sachs: Not so golden