NEW YORK (CNNMoney.com) -- The Senate Thursday passed the Iraq war spending bill that included language that will increase the federal minimum wage for the first time in 10 years.
The raise in the wage, however, is unlikely to pass with this legislation since President Bush has vowed to veto it because the bill calls for a March 2008 pullout of U.S. troops from Iraq.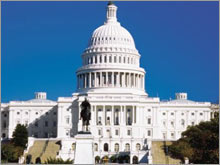 The spending bill passed on a 51-47 vote Thursday morning.
The addition of the minimum wage issue to the Iraq spending bill, however, allows House and Senate Democrats to begin negotiations on the size of small business tax cuts that have divided House and Senate Democrats.
The tax breaks are needed to win Republican support for the minimum wage hike, including President Bush's.
In early March, House Democrats attached the minimum wage legislation to the budget bill in order to speed the agreement between chambers on the size of the package of small business tax breaks.
Both the House and Senate bills provide for a gradual increase of the minimum wage from $5.15 an hour to $7.25 an hour over two years.
The House approved a smaller $1.3 billion small business tax break package after the Senate passed an $8.3 billion package, and then tacked on another $3.9 billion Tuesday.
Although the minimum wage increase is likely doomed when the bill reaches the White House, minimum wage supporters see value in its inclusion.
Once a compromise on the size of the tax breaks is hammered out, a new minimum wage bill can be brought forward later and possibly passed, either as stand alone legislation or as part of a less controversial budget package.
Bill Samuel, of the AFL-CIO, said "This is a step forward but not a final one."
Samuel predicts another minimum wage bill could be produced by mid-to-late April.
By then, the tax-breaks would presumably be worked out between the House and Senate.
Senate Minority Leader Mitch McConnell (R-Ky.) Tuesday issued a statement regarding the spending bill: "The Constitution gives those who oppose this war a clear and concrete way of expressing their views: and that's to vote against funding it."
"Attempting to have it both ways - by slipping a withdrawal date into this bill, by making the support of our troops contingent on a dangerous and defeatist surrender date, was wrong a week and a half ago. It's wrong now," McConnell said.
"Millions of hardworking Americans have waited long enough for a raise and unfortunately, Senate Republicans have thrown up roadblocks on an issue that is a matter of equity and fairness," said spokesman Drew Hammill of House Speaker Nancy Pelosi's office.
Democrats in both the House and Senate have pledged to stay on the issue.
Congressman Rahm Emanuel (D-Ill.), in response to a reporter's question Wednesday, said Memorial day could be considered a deadline for the passage of a minimum wage bill.
"Make no doubt about it, we're going to pass a minimum wage increase. It's a promise to the American people and we're going to get that done," said Emanuel.
The last time lawmakers increased the federal minimum wage was in 1997.
-------------------------------------------------------------
House passes tax breaks to aid wage bill