NEW YORK (CNNMoney.com) -- Online auctioneer eBay on Wednesday reported second-quarter profits and sales that beat Wall Street's estimates, boosted by its auctions and PayPal payment businesses.
San Jose-based eBay, the world's biggest online auction company, posted net income, excluding items, of $471.1 million, or 34 cents a share, up from $351 million, or 24 cents, a year ago.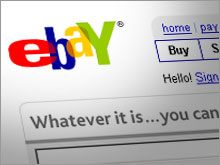 Analysts, on average, had expected a profit of 32 cents, according to earnings tracker Thomson Financial.
Shares of eBay (Charts, Fortune 500) initially jumped 2.2 percent after the news but turned lower after the company said global listings, what people post on eBay to sell, fell 6 percent in the quarter. Shares of eBay are up 14 percent year to date.
"Ebay had a solid quarter and every segment of its business performed above expectations," said Tim Boyd, analyst with American Technology Research.
At the same time, he said investors were right to worry about the decline in listings. "For investors, they're interested in PayPal as a business but if the dollars are not coming from eBay's auctions business, it doesn't count."
"Yes, the listings are not growing but the quality of inventory on eBay has improved which means that the overall shopping experience has improved," he added.
Sales for the period jumped 30 percent to $1.83 billion, higher than analyst expectations of $1.78 billion for the quarter.
Listings decline
Sales from eBay's core auctions business rose 26 percent in the quarter to $1.29 billion, with eBay's users posting a total of 559 million listings in the period. However, total listings globally were down 6 percent from the year-earlier period.
These listings generated Gross Merchandise Volume (GMV) of $14.46 billion in the period, or a 12 percent year-over-year increase. Ebay's GMV growth in the U.S. and Germany has been slowing over the past few years.
Ebay's chief financial officer Bob Swan said during a conference call with analysts that while eBay's GMV grew faster than its new listings, its revenue also grew much faster than its GMV growth.
Swan said the gap between GMV growth and revenue growth was driven by several factors including eBay not including listings from its Chinese and Taiwan businesses.
What's more, eBay last year infuriated its sellers in the U.S. who threatened to take their business elsewhere, including to rival Yahoo!, (Charts, Fortune 500) after the company raised its listing and commission fees.
Ebay CEO Meg Whitman told analysts during the conference call that some of the new changes in the months ahead would revolve around different pricing levels for sellers and making PayPal easier to use.
"We made significant changes a year ago when we changed the mix of fixed prices and auction prices," Whitman said. "As we overlap these changes, listings will follow demand."
"We [did] upset the balance of the marketplace more than we had anticipated. It was a big shock to the system, but now we're coming back into balance," she said.
Revenue from PayPal, eBay's online payment unit, rose 34 percent to $454 million. The total dollar volume of payments through the PayPal system was $11.69 billion, a 32 percent increase from the $8.86 billion reported for the same period a year ago.
Its Skype Internet-based phone service posted record revenue of $90 million in the quarter, up 103 percent from the $44 million reported in the same period a year ago.
The company said Skype had 220 million registered user accounts at the end of its second quarter, representing a 94 percent increase from a year earlier.
"eBay's numbers were what we were expecting. They're slightly above consensus, showing stability within the business," said Steve Weinstein, analyst with Pacific Crest Securities.
At the same time, he said investors may be a little bit disappointed that the company didn't see a significant improvement in its business last quarter. "The company is just managing its business," Weinstein said.
"While that's OK, eBay has some very tough comparisons coming up in October and they will have to do something to match last year's strong October performance."
To that end, Whitman told analysts that eBay would redesign its home page in time for the fourth-quarter holiday shopping season.
"We will also enhance support for buyers and sellers and revamp our community section with a social networking component," Whitman said.
"We're making more changes over the next several months than we have over the past several years. And these changes will be supported by new marketing campaigns," Whitman said. Ebay has set up a new Web site at www.playground.ebay.com where users can test the upcoming changes.
For its third quarter, eBay expects total revenue to be in the range of $1.77 billion to $1.825 billion. Excluding items, eBay expects to post earnings in the range of 31 to 33 cents a share.
Analysts, on average, forecast the company to post third-quarter profit of 32 cents a share on sales of $1.79 billion, according to Thomson Financial.
For the full Year, eBay sees sales of $7.3 billion to $7.45 billion and profits, excluding items, of $1.34 to $1.38 a share.
Analysts, on average, expect it to post full-year sales of $7.4 billion and profits of $1.34 a share.
-- Analysts quoted in the story do not personally own eBay shares and their firms do not have an investment banking relationship with the company.