NEW YORK (CNNMoney.com) -- Dell announced Thursday afternoon that a year-long investigation into its accounting practices has ended and the company plans to restate earnings back to 2003.
And for investors, a big cloud hanging over the personal computer maker has been lifted. It is now time to regroup and focus on whether Dell can reclaim the top spot in the personal computer industry.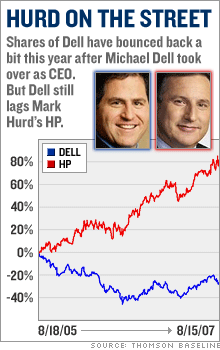 Last year, the company gave up the PC market share lead to Hewlett-Packard, and watched foreign competitors such as Lenovo and Acer gain steam as well. Dell was the only top computer company to lose worldwide PC market share.
Investors watched Dell's shares drop nearly 30 percent in the past two years while HP shares gained more than 70 percent in that period.
But Michael Dell took back the reins of the computer giant early this year following the departure of Kevin Rollins and investors have embraced the stock since then. Shares are up 7 percent since Dell took over as CEO on Jan. 31.
With Dell back in charge, the computer giant seems eager to claw its way back to the top of the PC market, even if it means being outfitted in pink.
The launch of notebooks in colors like flamingo pink and sunshine yellow in June are an indication that Dell (Charts, Fortune 500) may be taking note of Apple's multi-hued iPods. It also shows that Dell can't rely solely on low price to lure customers.
So can Dell return to glory on Main Street and Wall Street?
Making strategic moves
Dell has used acquisitions and partnerships to tailor their computers to music, movie and video game lovers in order to gain an edge over its competitors, most notably Hewlett-Packard (Charts, Fortune 500).
In addition to taking fashion cues from Apple (up $4.15 to $121.20, Charts, Fortune 500), Dell has made a number of moves to expand its consumer business that has been a "second class citizen" compared with its corporate accounts, said Dr. Gautam Dhingra, chief executive officer and portfolio manager at High Pointe Capital Management, which owns 1.1 million shares of Dell.
In January, Dell started selling a rugged "All-Terrain" notebook with a shock-resistant hard drive and spill-resistant keyboard, similar to Panasonic's Toughbook. And in May, Dell launched its XPS gaming desktops souped up with NVIDIA (up $1.35 to $43.92, Charts) GeForce graphics cards.
Late last year, Dell introduced a Blu-Ray-enabled multimedia notebook for watching high definition films, and just this month, Dell announced plans to acquire audio- and entertainment-focused tech company ZING Systems.
"Dell is trying to do a bunch of things to get incremental improvement," says Bill Fearnley, Jr., an analyst with FTN Midwest. "They don't have a billion-dollar product like the iPod up their sleeve."
Currently, according to preliminary quarterly results, PCs make up 60 percent of Dell's overall sales, servers and networking make up 11 percent and services make up just 9 percent. So there is room for growth in consumer electronics.
The same can be said for software and services, two other markets Dell is trying to tap.
Earlier this month, possibly in a move to enhance its software presence in the corporate market ala IBM (up $0.70 to $110.39, Charts, Fortune 500) and HP, Dell agreed to acquire corporate software developer ASAP.
And last month, Dell announced plans to acquire SilverBack Technologies, which would allow companies using Dell computers to remotely monitor and manage IT systems.
"Dell's historical strength has been on the business side," says David Fleer, portfolio manager at Bristlecone Value Partners, a Los Angeles-based fund holding nearly a million shares of Dell's stock.
Embracing the consumer
Still, Dell realizes that it needs to do a better job with consumers. Customer service has been Dell's weak point, analysts say, and customer-satisfaction ratings have reflected that.
Dell's quarterly rating among PC makers has declined, after an improvement in the year-ago period, while Hewlett-Packard's (up $0.84 to $46.89, Charts, Fortune 500) customer service ranking improved, according to the American Customer Satisfaction Index, an economic indicator from the University of Michigan.
And Dell is taking note. After building up its business with online sales, Dell is reaching out to customers with a partnership to sell desktop computers at Wal-Mart stores nationwide.
While the consumer experience at Wal-Mart probably won't come close to what it's like to buy a Mac at an Apple store, partnering with the retail giant gives the company "quick, big exposure to the retail markets, which they identified as a hole in their distribution," Fleer said.
But Dhingra isn't that impressed. Although Wal-Mart (down $0.03 to $43.47, Charts, Fortune 500) is the world's largest retailer, it will only be selling a lower-end computer, and only in the U.S., Dhingra says. "The volume is going to be tiny compared to what their corporate revenues are."
Is the stock a buy?
After holding as much as 19.1 percent of the PC market in the second quarter of last year, Hewlett-Packard knocked Dell out of the top PC spot in the third quarter and has held it ever since, according to research firm IDC.
Yet, "whether Dell is number one or number two is not of critical importance to us," said portfolio manager Fleer, who notes that a turnaround will take more than a few quarters to take effect.
A.G. Edwards analyst David Wong agrees. In a recent research report, he wrote that he thinks Dell will continue to lose share for the foreseeable future. But he thinks this might actually be a positive.
"This is not necessarily a bad thing. We think that the company has made a decision to focus on profitability at the expense of near term market-share considerations in the lower profitability segments," he wrote.
Citing strong preliminary results in the most recent quarter, Wong upgraded the stock to a "buy" from "hold" in June.
But while Wong's price target of $35 implies the stock is worth much more than its current price of about $26, Fearnley of FTN Midwest rates the stock neutral, saying shares are fairly valued.
To that end, Dell's shares are currently trading at about 16 times next year's earnings estimates, a slight premium to Hewlett-Packard's P/E of 15.
Wong notes though that Dell's plans to cut jobs by 10 percent over the next 12 months, among other cost-savings methods, could help boost the company's profit margins.
So Dell may have a long day to go before it regains its status as a Wall Street darling. But it appears to be on the right track.
FTN Midwest makes a market in Dell's stock but doesn't own shares. A.G. Edwards makes a market in the company's stock, and the firm or an officer at the firm owns a long position in Dell's shares.