Fed cuts rates by 3/4 of a point
Central bank lowers key rate to lower borrowing costs for consumers, businesses, as it risks lower dollar in effort to ward off recession.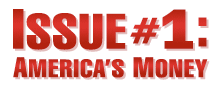 Issue #1: America's Money - Everyday on CNN
NEW YORK (CNNMoney.com) -- The Federal Reserve slashed a key interest rate by three-quarters of a percentage point Tuesday, in the central bank's continued effort to restore confidence in the economy and battered financial markets.
Although some experts cautioned that such a big cut may lead to more inflation, stocks soared as Wall Street cheered the news. One economist said the cut was what investors needed to see since it showed the Fed is still worried about both a recession and inflation.
"I think it's the right step, a measured step and ultimately it has to be viewed as a compromise," said Bernard Baumohl, head of the Economic Outlook Group, a Princeton, N.J., research firm.
The Fed cut its federal funds rate, an overnight bank lending rate, to 2.25%. It is the sixth cut in the past six months and comes at a time when the Fed is trying to keep the economy from slipping into recession - although many think it has already entered one.
Interest rate cuts are usually viewed as beneficial for the economy since they typically lead to more lending. The federal funds rate affects how much consumers pay on credit cards and home equity lines of credit, as well as the rate paid by many businesses on loans tied to banks' prime rate. But some experts think lower rates won't solve the credit crunch paralyzing Wall Street.
The Fed cited a weakening labor market and a slowdown in spending by consumers, as well as a continued crisis in financial markets and tight availability of credit to justify the cut. U.S. employers have cut 85,000 jobs so far this year, according to the Labor Department, the most in four years.
'Compromise' on the growth-inflation debate
But two members of the central bank's policymaking body - Dallas Fed President Richard Fisher and Philadelphia Fed President Charles Plosser - voted against the cut. According to the Fed's statement, they "preferred less aggressive action." While a single dissenting voice is not uncommon - Fisher voted against the Jan. 30 rate cut as well - having two "no" votes is very rare.
Baumohl said the Fed meeting was probably "one of the most contentious" in many years. He speculated that some members were probably arguing a full-point cut was justified by problems in the market while other Fed governors likely did not want to cut by more than a half-point due to concerns about inflation and the dollar.
Some economists have argued the rate cuts will cause a continued weakening in the value of the dollar and a further spike in commodity prices -- which could lead to higher prices for gas, food and imported goods. According to a new national CNN/Opinion Research Corp. poll released Tuesday, Americans said inflation is their top economic concern.
The dollar did rally modestly following the Fed's announcement. But some investors worried that even the three-quarters of a percentage point cut will cause more declines in the dollar in the future, especially if other central banks around the globe don't start lowering rates.
"The European Central Bank has been surprisingly tough in its resolve not to cut rates," said Chip Hanlon, president of Delta Global Advisors.
Hanlon added that the Fed's rate cut Tuesday was still "too aggressive" and that it "signifies panic."
The Fed acknowledged in its statement that inflation pressures have grown more than expected, and it promised to monitor prices in the months ahead. But it said it still believed the greater risk to the economy was that of slowing growth and tight credit, not a spike in prices.
Market not disappointed
Over the weekend the Fed had to arrange for a fire sale purchase of Bear Stearns (BSC, Fortune 500), the nation's No. 5 brokerage firm, by loaning buyer JPMorgan Chase (JPM, Fortune 500) $30 billion to cover expected losses.
The Fed also took the unprecedented step of allowing brokerage firms to borrow money directly from the Fed, a right previously reserved for commercial banks. In addition, the central bank lowered its discount rate, which is what it charges banks to borrow money, by a quarter of a point on Sunday night.
The Fed cut the discount rate again Tuesday by three-quarters of a point to 2.5%. That cut was unanimous.
Yet, many investors were hoping the Fed would cut rates even further. According to federal funds futures on the Chicago Board of Trade, investors had priced in a 100% chance of a full percentage point cut Tuesday. What's more, traders are betting on another half-point cut following a two-day meeting that concludes on April 30.
But U.S. stocks, after initially falling on the Fed decision, rebounded later. The Dow Jones industrial average finished Tuesday with a gain of more than 400 points while the Nasdaq and S&P 500 each surged more than 4%.
Daniel Libby, senior portfolio manager for Sands Brothers Select Access Management Fund, said he thinks the reason stocks held on to their gains is because the Fed satisfied those hoping for a large cut without bowing to pressure for an even bigger one.
He suggested that stocks might have plunged if the Fed only cut by a half-point but that a cut of a full percentage point would have done "unnecessary damage" to the dollar.

Features

These Fortune 100 employers have at least 350 openings each. What are they looking for in a new hire? More

It would be the world's second-biggest economy. See how big companies' sales stack up against GDP over the past decade. More