A bakery on the rise
Two partners try to expand their food business without losing momentum.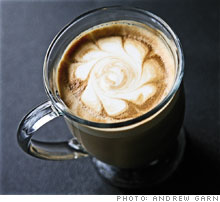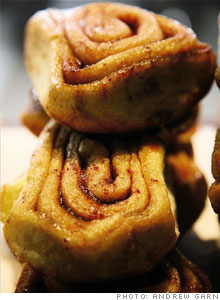 DETROIT (FORTUNE Small Business) -- Every city has a skid row. For years Detroit's was Cass Corridor. Even at 4 a.m. commerce thrived. You could buy drugs, sex, cheap wine, and stolen merchandise at almost any hour of the day. But you couldn't buy a freshly baked loaf of bread. The area was a culinary wasteland, until two idealistic bakers opened Avalon International Breads.
For Jackie Victor, 42, and Ann Perrault, 48, Avalon is a crusade. They love Detroit and want to help revive it.
These two business and life partners are deeply committed to social responsibility. They feed the homeless, recycle, and hire workers from the neighborhood. They pay a living wage - managers typically make $40,000 a year - and Avalon's health benefits rival those of corporate employers. They practice open-book management, a technique that gives employees access to Avalon's financials. And they have been wildly successful.
Some 500 customers a day line up to buy Avalon's breads, scones, muffins, and coffee. They include suburbanites, students from nearby Wayne State University, and area hospital workers.
Avalon also supplies top local restaurants and specialty shops with breads and pastries. Its three trucks ply the roads from predawn to noon six days a week. Sales topped $1.5 million in 2007, and net income was $180,000 (up threefold from 2006). The secret of Avalon's success: Its owners are talented bakers.
"We never wanted to be a hippie-dippie bakery with food that tastes like tree bark," says Victor.
Staffing and management are worries. Avalon now employs 35. In the next few months it will hire 15 more. The bakery has vowed to support the neighborhood by providing jobs. But with limited work experience, local recruits often lack basic business and social skills. Avalon has no formal process for training or evaluating workers. Discipline is uneven. Customer service is lax. Behind the counter, staffers rush to fill orders but rarely smile or suggest new treats.
"We're missing opportunities to up-sell," Victor frets.
The partners fear those flaws could prove disastrous when they move to the larger store. Meanwhile, backroom blunders are common and costly, given rising prices for staples such as organic flour. Victor admits Avalon has lost key wholesale customers because of errors.
And quality control is an issue. Today's blueberry muffins may be larger - or smaller - than yesterday's. Some will be dense with berries, and others will sport a mere speckling. Retail customers may be charmed by the inconsistencies, but restaurants and specialty shops are pickier, Victor says. And Avalon seeks to double its wholesale trade in the next year or so, moving into more suburban specialty markets. Baking mistakes could stall growth.
Meanwhile, Avalon faces an even more daunting challenge. While its owners are committed life partners, they clash when working side by side.
Perrault is circumspect and fiscally conservative. Victor is a creative whirlwind, a big spender, and a bit of a hothead. When their different styles threatened to kill the business and their relationship, they hatched a plan to save both. Victor took a three-year sabbatical to stay home with the couple's two children, and Perrault took on the day-to-day management of Avalon, which was losing money. By cutting costs and boosting sales, she had the bakery on track in a year.
When their three-year plan ended (around the time of this Makeover), the women traded places. As new CEO, Victor has quickly executed an ambitious agenda that includes the move to a larger space and a packaging and merchandising makeover. Perrault became a full-time mom. Managing the transition is a major concern. Meanwhile, Avalon faces growing competition from rival Zingerman's, an iconic gourmet deli and bakery in nearby Ann Arbor.
To tackle those issues, FSB enlisted the aid of three experts, who gather in Avalon's shop on a chilly morning. After a quick tour of the new bakery under construction a few blocks away, the experts get down to business.
Michael McGrann, 41, is managing director of Philadelphia's TELOS Group, which specializes in advising family-owned businesses. McGrann's biggest concern is the abrupt management shift from Perrault to Victor. Perrault proved she can trim costs and manage cash flow, he says. The bakery needs continuity during this time of investment and growth, he adds. Avalon's costs will soar in the next few months. Its monthly rent, for example, will leap to $10,000, from $3,500. Payroll will climb by 30% to 40%.
"Why put the business through such a jarring transition?" he asks. "Why not take it slower?" His suggestion: Perrault should continue to manage the finances and some operations while Victor handles the move and marketing.
The two women shift uneasily in their chairs and shake their heads.
"Trust me," says Victor, "working together would ruin the relationship, and the business."
Besides, Perrault says, she and Victor share the same vision for the bakery. And Avalon's mid-level management won't change. The bakery's two key managers have been with the company for years, working closely with both partners.
Still, McGrann is wary. To ease potential tensions, he suggests that the pair make rules. Limit the amount of money that Victor can spend - say, $5,000 or $10,000 - without Perrault's okay. He also urges the two to review monthly spreadsheets together so that possible problems can be tackled before they escalate and endanger the business. A move generally proves more costly than anticipated, he warns. "The changes will disrupt business."
McGrann also tells Victor to be honest about Avalon's plans and give employees the choice of deciding whether to take the required next steps. Declare your expectations for excellence clearly to workers - then act swiftly if anyone fails to perform, he says, noting that justified firings aren't bad for morale: "Hold your people accountable for their actions."
Training skilled laborers to become good managers is a classic problem of a growing business, notes expert Raj Sisodia, a professor of marketing at Bentley College in Waltham, Mass., and author of a book on ethical business practices. Sisodia, 49, suggests creating a system of procedural checks and balances that would allow managers to trace goods from dough to display case. Make employees sign off on their work at every step in the baking, packing, and shipping processes, he urges.
"Once you've got data, the difference between bad management and bad luck becomes clear," he says.
FSB's third expert, marketing and business strategist Kelley Styring, also has thoughts about Avalon's management issues. Styring, 46, owns InsightFarm, a Newberg, Ore., consultancy. She notes that Avalon's culture stresses pride in craftsmanship, rather than management, which means any in-house training program will face challenges. Instead of attempting to turn bakers into managers, Styring says, Avalon should contact local culinary schools to recruit graduates who have studied restaurant or bakery management.
The next topic is boosting revenues. Avalon's $1.5 million in annual sales is now evenly split between retail and wholesale customers. To stay profitable, the bakery must double revenues in both segments by 2010. And Zingerman's, its well-funded rival, is making a big wholesale push into suburban Detroit. A growing number of area gourmet shops stock its goods. Its marketing is sophisticated and stylish. Quality control is superb.
"It's obvious you love being in the store with your customers," Styring says to Victor. "Do you like the wholesale business?"
Victor's response is quick- - and direct. "I hate it," she says. "Clients are never happy. All they do is complain." An uneasy silence settles over the group - Victor despises a division that makes up fully half of Avalon's sales.
Styring has an answer: "Once you address quality control, you'll get fewer complaints. But I'd strongly advise you to hire a wholesale manager who loves working with shopkeepers and chefs. You'll be happier - and you won't be blocking a major growth opportunity."
But Avalon can't pay the salary such a manager would expect, Victor notes. McGrann has an idea: Create a position that offers base compensation, plus incentive pay for bringing in wholesale business.
All the experts urge Avalon to face the Zingerman's challenge head-on.
"Open a store in Ann Arbor, in their backyard," Styring suggests. "Be the anti-Zingerman's. They're the snobby, upscale gourmet. You're the scrappy underdog with a story of survival in a dying city."
Several weeks later, Victor says Avalon is running more smoothly as quality-control systems are put in place. Chefs and store owners seem happy.
"It's not the nightmare I expected," says Victor.
Perrault still oversees the firm's weekly finances while training Victor. They hope to open the new bakery by next fall or winter. But the partners won't be heading to Ann Arbor. They would rather focus on growing the new store. After all, says Victor, "we're not just about baking bread. We're about baking bread in the neighborhood we love."
FSB will keep an eye on Avalon, and report back.

Could your business use a makeover? In general, successful Makeover candidates are profitable small companies with at least $1 million in annual gross revenues. To submit your firm for consideration,
e-mail the FSB makeover editor here
. Please describe your business briefly, provide your most recent and projected revenues, and explain why you think your company would benefit from a Makeover.


Ask a Question

My dream is to launch my own business someday. Now that it's time to choose a major, I'm debating if I should major in entrepreneurial studies or major in engineering to acquire a set of skills first. Is majoring in entrepreneurship a good choice?
More
- Spate, Orange, Calif.

More Small Business

Next Little Thing 2010