Top tips: stimulus check, credit score and gas
Got questions about money? Gerri Willis has answers on topics from tax rebates to fuel efficiency.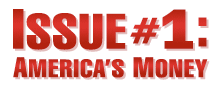 Issue #1: America's Money - Everyday on CNN
NEW YORK (CNNMoney.com) -- Gerri Willis answers reader's questions.
Question 1. If you are currently on a payment plan with the IRS and all payments are current, will the IRS keep your stimulus check?
Yes. The IRS says that if you owe taxes the money will be used to cover you debt.
Even though you're current on your payments, you still owe money to the government. And if you have delinquent student loan debt, missed child support payments or you owe back taxes, you probably won't see your stimulus check either if the amount you owe is more than your rebate check.
If you have any questions, or you want more information you can contact the IRS at 1-800-829-1040.
And don't forget, those checks are going out sooner than expected the President announced today. If you have direct deposit, you could get your check as early as Monday.
Question 2. I just got a small settlement and it will pay off my credit card in full. However my FICO is 734 and I want it to rise! Do I pay it off or just pay some of the balance and put the rest in savings?
If you want to improve your credit score, put the money toward paying off your credit card.
Your credit card interest rate is much higher than what you would make if you put your money into a savings account.
Once you've paid off your debt, your next priority should be to boost your savings. To find high yielding bank accounts, go to bankrate.com.
Question 3. How do hydrogen fuel cell cars differ from hybrids?
Hybrids use both an electric motor and a traditional gasoline motor.
On the other hand, hydrogen fuel cell cars use hydrogen as its fuel says Jon Linkov of Consumer Reports. That hydrogen then produces electricity that powers the car.
In a fuel cell car, there are no emissions, which is not true with the hybrid. However, there are only a few prototypes of hydrogen fuel cell cars out there and it could take another ten years to get a full rollout of hydrogen fuel stations according to Linkov.
We also get some great tips from viewers.
This one is from Michael in San Diego. He writes:
Saving gas is a matter of proper behavior behind the wheel. Increase your following distance and use your brakes when really necessary.

Gerri's Mailbox: Got questions about your money? We want to hear them! Send e-mails to
toptips@cnn.com
or
click here
- each week, we'll answer questions on CNN, Headline News and CNNMoney.com.
Features

These Fortune 100 employers have at least 350 openings each. What are they looking for in a new hire? More

It would be the world's second-biggest economy. See how big companies' sales stack up against GDP over the past decade. More