When a stranger calls... with a hot stock tip
When you start hearing these pitches, it's time to hang up the phone.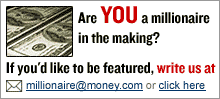 NEW YORK (Money) -- Question: I received a call from a broker who gave me a strong recommendation to buy a stock. While he told me I could buy it without him, he said we could make a lot of money going forward if I used him. Should I have listened to him? The stock he recommended hasn't done much since he called me.
The Mole's Answer: While I happen to believe in the kindness of strangers, I'd bet heavily that you did the right thing by just saying no.
First of all, I get these calls too. Let's examine three I've received recently.
Inside information about a large public company that was about to be acquired.
The broker was trying to appeal to my sense of greed, which we all have. I could buy this stock on my own and get a windfall profit of 60% in a week. Or, I could buy the stock through him and repeat that return every week."
Well, I did the math, and if this were true, a 60% weekly return would give me a four trillion percent return in a year! Look out Bill Gates - here comes The Mole!
Is anyone surprised to hear that the merger didn't happen and the stock went nowhere? Thought not. If, by some chance, this brokerage firm did have an inside scoop on an acquisition, I'm thinking they might call their best clients rather than buy a list and use it to solicit new business.
And let's not forget that trading on true insider information is usually illegal.
An oil and gas driller in Texas with a tip on a new partnership.
With the pinch we're all feeling at the gas pumps, here was my chance to get in on the game. As a driller, they had a track record of hitting on all 38 of their last wells, or so the caller said. With a 100% hit record, I'm sure to make a bundle, right? Where do I send the check?
Yeah, well, if the driller actually had such a track record, I'm pretty certain his current partnership investors would be beating down the door for him to take more of their money and let them in on new partnerships. They might be a tad upset that he was paying people to solicit new investors and locked them out.
This clearly failed any smell test. As far as "hitting" all of his last 38 holes, he never actually said what he hit, maybe golf balls.
A broker with a winning track record has the next big stock.
Another broker called claiming he had told me a few months ago about a 50 cent stock that had gone up 1,000 percent. He had another tip for me, of course.
This was really clever since he gave me the ticker of the stock that went up 1,000 percent. I could actually verify it. What I couldn't verify, however, is that he called me a few months ago to tell me to buy that stock.
Granted, I don't remember every call I get but I'm pretty sure this was our first conversation. For all I know, this guy probably wasn't even a stock broker.
My guess is that he was doing what was called a "pump and dump" scheme. This is when someone owns a position in a tiny, thinly-traded company and gets a hand full of people to buy some. Because it's so thinly traded, it can drive up the price dramatically. And guess who's selling the stock when the price is going up? Yes, the perpetrator of the pump and dump scheme.
This practice is clearly illegal but happens all the time. We all get spam email with hot stock tips but this was my first phone call. Naturally, when I tried to get his contact information, the call terminated. I was also unable to find the firm he claimed to represent.
My Advice: When a stranger contacts you with the promise of making you rich, be skeptical at the very least. Ask yourself if it is really so good, why are they cold-calling you? Shouldn't they be getting all the business they could handle?
Look for these warning signs:
• Something that sounds too good to be true
• A sense of urgency and expectation that you act right away
• No way to check out the information conveyed.
These schemes aren't necessarily illegal, and the people soliciting us are sometimes very skilled at appealing to our emotions. Even I want to believe what they are saying may be at least partially true.
But as much as you want to believe what they're saying, never make a quick decision. Think about it, check it out and, most of all, apply some common sense. They're probably far more concerned about their financial future than yours.
The Mole is a certified financial planner and certified public accountant who - in the interest of fairness - thinks you should know what goes on behind the scenes in financial planning. Want to make contact? E-mail themole@moneymail.com.

Thinking of retiring early? Money Magazine is looking to speak with people who would like to leave the workforce in the next few years but don't yet know what they'll do for health insurance (before they get to Medicare age). If that sounds like you, send your name, age, occupation, a brief description of your retirement savings and a photo to makeover@moneymail.com.

Send feedback to Money Magazine
Features

These Fortune 100 employers have at least 350 openings each. What are they looking for in a new hire? More

It would be the world's second-biggest economy. See how big companies' sales stack up against GDP over the past decade. More