Small Biz State of the Union
Starting in January, the new administration can expect to field many SOS calls from entrepreneurs. Here's how the feds can help small business.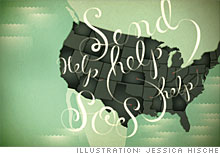 (Fortune Small Business) -- Compared with many U.S construction firms, Premium Stone Surfaces has had a decent 2008. Owners Terry and Lora Mullins have nearly doubled their residential-repair business so far this year, even though their commercial contracts have cratered from 20 in 2007 to two today. But expenses have skyrocketed, and they've had to look far beyond their base in Craigsville, W.Va., to find those residential flooring jobs.
"We haven't raised our prices, but everyone else has," says Lora, 33. "They're raising material costs, they're adding fuel surcharges, and freight costs are increasing."
To stay competitive the Mullinses replaced their accountant with PayCycle, an online payroll service, laid off their secretary and job supervisor, and moved their office into their home. But the winter still looks tough for this seasonal business: Terry and Lora's cash reserves have dwindled from $40,000 last fall to $3,000 at presstime.
"Our business is still afloat, so I can't complain," says Lora. "But that's not enough to pay for heat through the winter."
The Mullinses are far from alone. By most measures, these are tough times to be an entrepreneur. In a recent Fortune Small Business/Zogby International poll of U.S. small-business owners, 42% of respondents said their businesses had gone downhill in the past four years. (See more poll results in our roundup: "Small biz sounds off.") And in August the National Federation of Independent Business optimism index reached its lowest ebb since the end of the Carter administration.
"The state of the union for small business is bad," says Moody's Economy.com chief economist, Mark Zandi.
Of course, it's not all gloom and doom. The education and health-services sectors saw a net gain of 3,000 businesses last year. And according to the Small Business Administration, exports by small U.S. firms grew by 63.9% between 2002 and 2006 (the most recent data available), outpacing overall export growth of 50.5%.
"Had it not been for exporting, we would almost certainly have had negative economic growth in the first quarter of 2008," says Chad Moutray, chief economist at the SBA's Office of Advocacy.
While many of the forces are beyond easy legislation - construction and many other industries are cyclical, energy costs are global, and export growth has been driven in large part by the weak dollar - the seeds of a sensible small-business agenda can be found in the downturn's pain.
Control health-care costs
Health insurance is a crippling burden for many small businesses. One possible fix: the Small Business Health Options Program (SHOP), a piece of legislation introduced in Congress in April 2008. It would allow small businesses to spread risk by banding together in state and federal insurance pools.
"If there are over 23 million small businesses out there, why not leverage that for buying power?" asks Tom Sullivan, the SBA's chief counsel for advocacy. "Small businesses are excited by this."
The data back him up: In the FSB/Zogby survey, 42% of respondents said the next administration should lower health-care costs by allowing small businesses to join insurance pools.
Shake the money tree
Small businesses have been hit hard by the current credit crunch. One fix: The SBA should increase the percentage of SBA 7(a) loans it guarantees to 100% from the current level of 75% to 85%.
Businesses would still need to meet SBA credit standards, but the banks that make the loans would have fewer reasons to apply more-stringent requirements of their own. While taxpayers would be on the hook if the loans failed, this step would increase the amount of SBA 7(a) money reaching small businesses, which is down 15% this year from its 2005 high of $15.2 billion.
"The government used our money to bail out Fannie Mae and Freddie Mac for maybe $200 billion, and that didn't create a single job," says Wharton professor Raphael Amit. "Getting small businesses access to capital creates jobs."
Help exporters
Three years ago Michael Cole was looking for ways to expand overseas. Cole, the international distribution manager at Old Mother Hubbard, a pet food manufacturer in Tewksbury, Mass., was pleased to discover the U.S. Commerce Department's Gold Key service. The service charges $700 to match business owners and distributors. In 2007, Commerce handled some 1,200 Gold Key requests.
"I was surprised it existed," Cole says. "More people should know about this, especially smaller companies."

To write a note to the editor about this article,
click here
.



My dream is to launch my own business someday. Now that it's time to choose a major, I'm debating if I should major in entrepreneurial studies or major in engineering to acquire a set of skills first. Is majoring in entrepreneurship a good choice?
More
- Spate, Orange, Calif.

More Small Business

Next Little Thing 2010