Big Three want more money in bailout
The price tag of a loan to the Detroit automakers could top $34B: GM is asking for up to $18B, Ford wants $9B and Chrysler, $7B.
Map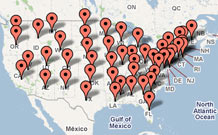 More than 2 million workers in every state - including Alaska and Hawaii - draw their pay from the auto industry.
»»
NEW YORK (CNNMoney.com) -- Automakers submitted their turnaround plans to Congress Tuesday with the hopes of winning approval for a lucrative loan package they claim is necessary for their survival.
The plans included salary cuts for top executives, the sale of corporate jets by General Motors and Ford and the possible elimination of two GM brands - Pontiac and Saturn. But the Big Three are also now asking the government for as much as $34 billion instead of the $25 billion they originally wanted.
General Motors, the nation's largest automaker, said late Tuesday afternoon that it is seeking up to $12 billion to survive into 2010 and that it anticipates using $4 billion of that just this month in order to avoid bankruptcy.But GM said it is also requesting an additional $6 billion line of credit to provide more funds should a severe market downturn persist.
Ford (F, Fortune 500) is asking for $9 billion. The company said it hopes that it will not need to use the federal loans though and that it should be able to return to profitability by 2011. But it said it would like to be able to have access to the funds as a backstop.
Chrysler LLC confirmed its previous request for a $7 billion loan that it made at Congressional hearings two weeks ago. So the automakers are asking for at least $28 billion and as much as $34 billion under the three plans.
The plans were submitted on the same day that the auto industry reported the worst U.S. sales in 26 years. Both U.S. and top overseas automakers all reported sales declines of more than 30% from year-ago sales, increasing the level of urgency for the beleaguered Big Three.
Sen. Carl Levin, D-Mich., a strong advocate of the bailout, said he is confident Congress will return next week to approve a loan package. He said he's not concerned about the higher price tag being requested and added that members of Congress wanted an honest accounting of how much might be needed in a worst case scenario.
Speaking at a press conference Tuesday afternoon, House Speaker Nancy Pelosi, D-Calif., also said that it was imperative that the automakers get immediate federal assistance.
"Bankruptcy is not an option. Everyone is disadvantaged by bankruptcy. It takes too long. What takes a year we can do in a few weeks. ... I don't think anyone wants to see bankruptcy," Pelosi said.
But Pelosi wouldn't commit to having Congress return next week to pass a Big Three bailout. She said if Congress does not return, the Treasury Department should use money available under the previous $700 billion Wall Street bailout to tide the automakers over until early next year.
It's not clear if the Treasury Department would do this since the Bush administration has endorsing the idea of aid for the automakers but opposes using the Wall Street bailout money to help them.
Salary cuts: As part of its plan, Ford announced that the salary of Ford CEO Alan Mulally would be cut to $1 a year if Ford (F, Fortune 500) actually borrowed money from the government.
General Motors (GM, Fortune 500) said that CEO Rick Wagoner also will accept a $1 salary. Chrysler LLC CEO Robert Nardelli is already being paid only $1 a year, according to the Chrysler plan.
Mulally had a base salary of $2 million and total compensation of $21.7 million last year, according to the company's filings.
Wagoner received base pay of $1.6 million and total compensation of $14.4 million.
Closely-held Chrysler does not disclose executive pay.
Shed brands: In an effort to cut costs, GM also suggested that two of its brands - Pontiac and Saturn - could essentially be dropped. GM said it would make Pontiac merely a niche product sold by other dealerships and explore alternatives for Saturn dealers. The company had previously announced it was looking at a possible sale of its Hummer brand.
Modify union contracts: GM also said it would seek additional changes in the labor contract with the United Auto Workers union to modify retiree health care plans and job guarantees the company cannot afford.
Cut jobs: GM said it will cut approximately 21,000 to 31,000 jobs by 2012 to reduce its total workforce to between 65,000 to 75,000 employees. Wagoner said GM reviewed its plan with UAW, which approved the measure. "They know what sacrifices need to be made on both the hourly and salaried side of the ledger," he said.
Officials with the UAW were not immediately available for comment on GM's and Ford's plans. But some local union officials told CNN that national union leaders are planning to hold an emergency meeting in Detroit on Wednesday.
Restructure debt: GM said it would also seek to renegotiate its outstanding debt with lenders and bondholders. The company had more than $30 billion in unsecured debt at the end of the third quarter. But GM said it expects to make all of the about $28 billion in payments it owes to suppliers.
"This is part of an urgent request for federal funding to create 'a new GM' - a lean and fully competitive company," said Wagoner in a conference call. "Taking these tough actions will help us weather the current economic stresses, and will position the new GM to be profitable."
Chrysler, which was sold by German automaker Daimler a year ago to the U.S. private equity group Cerberus Capital, said it remains focused on "developing partnerships, strategic alliances or consolidations" as part of its long-term plans.
The company said it believes it could save between $3.5 billion and $9 billion a year from cost savings tied to a merger. In November, GM said that it had halted discussions about a possible combination with Chrysler to focus on its own turnaround efforts.
Chrysler's Nardelli said in a presentation to the company's senior management that he realizes the $7 billion bridge loan is a "significant amount of public money." But he added that it is "the least costly alternative considering depth of the economic crisis and the options we face."
More hybrids...no more corporate jets: In their plans, all three automakers also made commitments to speed up the introduction of hybrid and electric vehicles. Ford also pledged to reverse the decades-long trend of losing money on the production of small cars in the United States.
Ford said it would increase the production of smaller vehicles such as the Ford Focus to more than 1 million a year and reduce the complexity of the car's parts in order to reduce costs.
Ford and GM also announced plans to get rid of corporate jets. Mulally, Wagoner and Nardelli were all roundly criticized at a House hearing last month when they admitted they had each flown their corporate jets to Washington to ask for help.
Ford said it will sell its five corporate jets. GM said it plans to sell four of its seven jets and is exploring plans to transfer leases on the other three to another operator. Chrysler spokesman Ed Garsten says Chrysler does not own any private aircraft but instead leases them on an as needed basis.
Mulally and Wagoner will be driving to Washington in hybrid vehicles made by their companies when they return to Capitol Hill later this week to make their case for loans. Nardelli is also driving a hybrid to Washington.
Return to profitability in next few years
Ford said that, as a result of its turnaround plan, it believes its core North American auto operations will be breakeven or profitable in 2011 on a pre-tax basis. The company had previously set a goal of returning those operations to profitability next year but dropped that target in May without giving a new one.
Ford also said it expects industrywide sales of 12.5 million vehicles in 2009, 14.5 million vehicles in 2010 and 15.5 million vehicles in 2011. By way of comparison, U.S. auto sales averaged close to 17 million a year from 1998 through 2006.
But GM and Chrysler submitted plans with far more conservative sales forecasts.
GM said once its restructuring plans are complete, it thinks it can be profitable even if sales only return to between 12.5 and 13 million vehicles a year. In the press call, GM president Fritz Henderson said the company's restructuring plan will make GM fully competitive with Japanese automaker Toyota by 2012.
Chrysler is forecasting a return to profitability with industrywide sales of 13.7 million in 2011 and 2012.
CNNMoney.com senior writer Jeanne Sahadi and staff writers David Goldman and Ben Rooney contributed to this report.

Features

These Fortune 100 employers have at least 350 openings each. What are they looking for in a new hire? More

It would be the world's second-biggest economy. See how big companies' sales stack up against GDP over the past decade. More