Auto sales plunge to 26-year low
Major automakers all report abysmal sales as the Big Three prepare to present their turnaround plans to Congress.
Map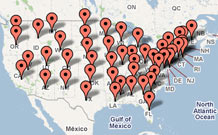 More than 2 million workers in every state - including Alaska and Hawaii - draw their pay from the auto industry.
»»
NEW YORK (CNNMoney.com) -- Car sales continued to plunge in November, falling 37% from a year-ago and hitting a 26-year low just as Detroit's Big Three presented their turnaround plans to Congress.
The pain was widespread, as the three U.S. automakers -- General Motors, Ford Motor and Chrysler LLC -- as well as the three largest overseas automakers in the U.S. market -- Toyota Motor, Honda Motor and Nissan -- all posted sales that fell short of the terrible results they reported in October.
Sales tracker Autodata said that its preliminary total showed industrywide sales at only 746,789 vehicles, the first time sales have been below the 750,000 mark since January 1982.
The seasonally adjusted annual sales rate hit 10.2 million, well off the 16.1 million vehicles sold through all of 2007, which had marked the ninth straight year that sales had been above the 16 million level.
The poor sales come on the same day that U.S. automakers were set to submit plans to Congress in an effort to win support of up to $34 billion in federal loans for the U.S. auto industry.
The automakers have argued that they need a bailout because sales have been battered more by tight credit and worries about the economy than by mistakes they made.
Ford (F, Fortune 500) released its plan early Tuesday, ahead of the November sales reports. The company said that as part of that plan, it would produce more small cars and fewer light trucks such as SUVs and pickups.
GM's plan calls for more savings on its labor contract. The company also suggested that two of its brands - Pontiac and Saturn - could face elimination. Chrysler hinted it may look for a merger or other combination, which could lead to further plant closings as a way to cut costs.
GM and Chrysler had previously warned they are close to running out of the money they need to continue to operate due to the weak industrywide sales.
Those two troubled automakers reported the largest declines among the five largest automakers.
GM reported a 41% drop from a year earlier and a 9% decline from October's sales. Sales of light trucks tumbled 39%, while car models suffered a 44% fall. The overall drop was far worse than the 28% drop forecast by sales tracker Edmunds.com.
Meanwhile, Chrysler reported a 47% drop from year-ago levels and a 10% decline from October. Edmunds.com was predicting a 42% drop in sales for Chrysler.
Jim Press, Chrysler LLC vice chairman and president, said in a statement that "2008 will go down as unlike any other year in the industry" and that the last two months of the year "are especially important to determine if we have established a base for sales in 2009."
Ford said November sales plunged 31% from year-ago levels. Sales were also down 7% from October.
Still, Ford's sales were slightly better than the forecast from Edmunds.com, which had predicted a 33% decline.
Toyota (TM) reported that its sales fell 34% from last November and 14% from October. That was far worse than the 24% year-over-year drop in sales expected by Edmunds.com.
And Honda Motor (HMC) reported a 32% drop in sales compared to a year ago, while sales were down 11% from October. Edmunds.com had forecast only a 21% annual decline for Honda, which had been closing in on Chrysler for the No. 4 spot in U.S. sales.

Features

These Fortune 100 employers have at least 350 openings each. What are they looking for in a new hire? More

It would be the world's second-biggest economy. See how big companies' sales stack up against GDP over the past decade. More