Obama: Aid 9 million homeowners
Wide-ranging $75 billion plan will use government money to subsidize rates and insure servicers against falling home prices.
Map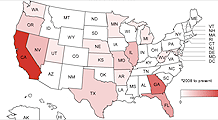 NEW YORK (CNNMoney.com) -- President Obama unveiled a $75 billion multi-pronged plan Wednesday that seeks to help up to 9 million borrowers suffering from falling home prices and unaffordable monthly payments.
The long-awaited foreclosure fix marks a sharp departure from the Bush administration, which relied mainly on having servicers voluntarily modify troubled mortgages.
Obama, on the other hand, will make it easier for homeowners to afford their monthly payments either by refinancing the mortgages or having their loans modified. The president is vastly broadening the scope of the government rescue by focusing on homeowners who are still current in their payments but at risk of default. And he puts billions of federal funds into enticing servicers to modify the loans of those who've already stopped paying.
While still voluntary, the program contains a mix of carrots and sticks for mortgage servicers and investors, both of whom have been seen as resistant to modifying loans. The program would not only give servicers $1,000 for each modification, but would give them another $1,000 a year for three years if the borrower stays current. It will also give $500 to servicers and $1,500 to mortgage holders if they modify at-risk loans before the borrower falls behind.
But the administration is also wielding a big stick. It will work with Congress to amend bankruptcy laws to allow judges to modify mortgages, a step community advocates say is badly needed but that the financial industry abhors.
In his speech in Mesa, Ariz., a community hit hard by the mortgage meltdown, Obama laid out how foreclosures hits more than just the troubled borrower. Seeking to drum up support from those who are paying their debts, Obama said that the downturn in the housing market has claimed many companies and jobs. This, in turn, has hurt state tax revenues, which means less money for schools and other public services. And, he said, it has made it harder for everyone to get credit.
"In the end, all of us are paying a price for this home mortgage crisis," Obama said. "And all of us will pay an even steeper price if we allow this crisis to deepen -- a crisis which is unraveling homeownership, the middle class, and the American Dream itself. But if we act boldly and swiftly to arrest this downward spiral, every American will benefit."
Falling home prices
Obama is venturing into new territory to deal with a serious problem plaguing millions of Americans, even those who remain current on their loans. The mortgage meltdown has prompted a steep decline in prices, leaving many homeowners owing more than their house is worth. Nationwide, prices have fallen 17.5%, back to the level they were at in fall 2004, according to Zillow.com.
The administration, which is marketing its plan as help for "responsible homeowners," estimates it can help up to 5 million people.
The plan would help borrowers who owe more than 80% of their home's value to refinance and reduce their monthly payments. Lenders generally won't refinance people who have less than 20% equity in their homes.
But only those who are current on their payments and whose loans are held or guaranteed by Fannie Mae and Freddie Mac are eligible. Also, the new mortgage, including refinancing costs, can't exceed 105% of the current market value of the property, excluding many of the hardest hit. So if your mortgage is $210,000, your property can't be worth less than $200,000.
The program, which begins March 4, allows borrowers to refinance into 15-year or 30-year fixed-rate mortgages at the current market rate, which hovers around 5%. This could benefit those whose mortgages carry higher rates or those in adjustable-rate or interest-only loans, groups of people who could see big rate spikes in the future. The plan, however, will not reduce the loan balance.
For instance, consider a family that took out a $207,000 mortgage at 6.5% on a home originally worth $260,000, but now valued at $221,000. If they refinance to a rate of 5.16%, they could reduce their annual payments by more than $2,300.
Homeowner stability initiative
The administration is also creating a $75 billion initiative to reduce monthly payments for at-risk borrowers by subsidizing interest rates. The goal would be to bring payments to no more than 31% of a borrower's income.
It estimates this program, dubbed the Homeowner Stability Initiative, would help up to 4 million people. It also argues that the measure helps stabilize home prices for all in the neighborhood, maintaining as much as $6,000 in value.
Many homeowners who pay their mortgages on time have railed against the government using taxpayer money to bail out borrowers they see as irresponsible. The administration is joining others in saying that foreclosures hurt everyone because they drag down home values.
"I also want to be very clear about what this plan will not do: It will not rescue the unscrupulous or irresponsible by throwing good taxpayer money after bad loans," Obama said. "It will prevent the worst consequences of this crisis from wreaking even greater havoc on the economy. And by bringing down the foreclosure rate, it will help to shore up housing prices for everyone."
The effort would help borrowers -- both those current and delinquent -- who live in their homes lower their monthly payments for five years. The servicer would reduce interest rates so that the monthly obligation is no more than 38% of a borrower's income and then the government would kick in money to bring payments down to 31% of the homeowner's income.
Servicers can also reduce the loan balance to achieve these affordability levels. The government will share in the cost, up to the amount the servicer would have received if it had reduced the interest rates.
Only loans where the cost of the foreclosure would be higher than the cost of modification would qualify. Also, Treasury will not provide subsidies to reduce rates to levels below 2%.
Obama's plan also addresses critics who say that some homeowners need extra help because they are carrying so much debt on top of their mortgages. Those with total debt -- including credit cards and auto loans -- equal to 55% of their monthly income must enter a debt counseling program to qualify for a modification.
In addition to providing incentives to servicers and investors, the administration will also reduce borrowers' loan balances by up to $1,000 a year for five years if they keep up with payments.
To entice servicers to modify mortgages in the wake of continuing home price declines, the administration and the Federal Deposit Insurance Corp. have developed a $10 billion insurance fund that will pay mortgage holders additional funds based on declines in a home price index.
The Treasury Department will also develop uniform guidelines for loan modifications, as well as require all financial institutions receiving government funds to participate in the program. Also, all federal agencies that own or guarantee loans will have to apply the guidelines where appropriate.
The Obama plan calls for legal changes to allow judges to modify mortgages during bankruptcy. Judges would be allowed to reduce the loan balance, a measure the financial industry fears because it would lower the value of the mortgage.
Community advocates say this step is required to aid homeowners who can't get help from their servicers. But, if Congress enacts this provision, they predict there will be fewer bankruptcies because servicers will be more diligent in helping homeowners outside of bankruptcy court.
Keeping mortgage rates low
The administration also plans to build on the Bush administration's use of mortgage financiers Fannie Mae (FNM, Fortune 500) and Freddie Mac (FRE, Fortune 500), which were taken over by the federal government in September. The agencies buy loans and securities backed by mortgages from financial institutions, giving them more money to make new loans.
The plan calls for Treasury to strengthen the companies by injecting another $100 billion into each. And it will allow them to buy more mortgages by increasing the size of their portfolios to $900 billion, up from $850 billion.
And, the government will continue to keep prevailing mortgage rates low by buying mortgage-backed securities issued by the agencies. This effort expands a $500 billion purchase plan announced in November that prompted mortgage rates to fall nearly a percentage point.

Features

These Fortune 100 employers have at least 350 openings each. What are they looking for in a new hire? More

It would be the world's second-biggest economy. See how big companies' sales stack up against GDP over the past decade. More