Dow jumps almost 500 points
Wall Street posts its best day since November as investors welcome Obama administration plan to buy close to $1 trillion in bad bank assets.
Tracking the bailout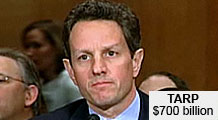 Video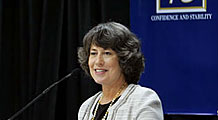 The Fixers
7 people are in charge of rescuing the economy. Here's who they are and how they plan to do it.
NEW YORK (CNNMoney.com) -- Stocks surged Monday, recharging the rally, after Treasury's plan to buy up billions in bad bank assets and a better-than-expected existing home sales report raised hopes that the economy is stabilizing.
The Dow Jones industrial average (INDU) gained 497 points, seeing its biggest one-day point gain since Nov. 21. The gain was equivalent to 6.8%, which was the biggest one-day percentage gain since Oct. 28.
The S&P 500 (SPX) index rose 54 points, its best one-day point gain since Nov. 13. The percentage gain of 7.1% was the best since Oct. 28.
The Nasdaq composite (COMP) added 99 points or 6.8% for the best one-day point and percentage gain since Oct. 28.
"I think the stock reaction is a vote of confidence in the plan," said Jack Ablin, chief investment officer at Harris Private Bank.
He said the stock market is also reacting well because the plan is skewed in favor of the private investor, who only has to be responsible for around 7% of the total in any transaction.
But other analysts were less sanguine. "The plan is a rehash of what we've seen before and it still doesn't resolve the issue of how to value the bad assets," said Stephen Leeb, president at Leeb Capital Management.
"There's a lot of cash on the sidelines, there's a real wish to believe that this is a solution and there has been some good news on the economy lately," he said. "All of that is contributing to a rally as well."
Stocks have gained for the past two weeks, despite tumbling last Thursday and Friday. But that retreat gave investors an opportunity to jump back in Monday, with bank shares leading the advance.
Since tumbling to 12-year lows two weeks ago, the S&P 500 has now rallied 18% as of Monday's close, blasting through 800, a key resistance level that analysts have been watching.
Tuesday brings more news from Washington. Federal Reserve Chairman Ben Bernanke and Treasury Secretary Tim Geithner are expected to testify at a House Financial Services Committee hearing on AIG, due to begin at around 10:00 a.m. ET.
Sheila Bair, Chairman of the Federal Deposit Insurance Corp, is due to testify at a Senate Banking Committee hearing on bank regulation, also scheduled for the morning.
President Obama is due to deliver a televised address during prime time.
Bad-asset plan: On Monday, Treasury rolled out its long-awaited plan to purge bank balance sheets of as much as $1 trillion in sour assets that are limiting lending and prolonging the recession.
The government will commit $75 billion to $100 billion of taxpayer money to launch the "Public-Private Investment Program," which seeks to create a market for that bad debt.
The government plans to run auctions between the banks looking to unload the bad assets - such as subprime mortgages - and the investors looking to buy them. The Federal Reserve and the Federal Deposit Insurance Corp. will be involved.
Economists have said that stabilizing the banking system is key to stabilizing the economy.
"Between the Fed announcement last week and the Treasury program this week, there are some tangible steps the government is taking and that is going to give the market the potential to keep moving higher," Ablin said.
Last week, the Federal Reserve announced it was pumping another trillion into the economy to try to get credit flowing.
Leeb said the market may be betting that if the Treasury plan leads into a brick wall, there's always the Federal Reserve to come in and expand its program.
Economy: Existing home sales rose 5.1% in February, according to the National Association of Realtors. Sales rose at a seasonally-adjusted 4.72 million unit annual rate versus a 4.49 million unit annual rate in January. Economists surveyed by Briefing.com expected sales to dip to a 4.45 million unit rate.
Company news: Financial shares led the advance. American Express gained almost 19%, Citigroup (C, Fortune 500) jumped 19.5%, JPMorgan Chase (JPM, Fortune 500) gained Bank of America (BAC, Fortune 500) jumped 26% and Wells Fargo (WFC, Fortune 500) gained 24%. The KBW Bank (BKX) index gained 18.6%.
The gains were broad based, with all 30 Dow components rising. Other big gainers included Alcoa (AA, Fortune 500), Caterpillar (CAT, Fortune 500), General Electric (GE, Fortune 500), Boeing (BA, Fortune 500) and Walt Disney (DIS, Fortune 500).
Suncor Energy (SU), Canada's No. 2 oil company, said it will buy rival Petro-Canada (PCZ) for $14.86 billion to create the country's biggest energy company. Suncor shares lost 1.8% and Petro shares gained 23%.
In other deal news, an Abu Dhabi fund, Aabar Investments, bought a 9.1% stake in German carmaker Daimler in a $2.67 billion deal announced late Sunday.
Market breadth was positive. On the New York Stock Exchange, winners beat losers by over 8 to 1 on volume of almost 1 billion shares. On the Nasdaq, advancers topped decliners four to one on volume of 1.5 billion shares.
Bonds: Treasury prices dipped, raising the yield on the benchmark 10-year note to 2.64%, up from 2.63% late Friday. Treasury prices and yields move in opposite directions.
Lending rates were little changed. The 3-month Libor rate held steady at 1.22%, unchanged from late Friday, while the overnight Libor rate rose to 0.29% from 0.28% Friday, according to Bloomberg.com. Libor is a bank-to-bank lending rate.
Other markets: In global trading, Asian and European markets rallied.
In currency trading, the dollar gained versus the euro and the yen.
U.S. light crude oil for May delivery gained $1.73 to settle at $53.80 a barrel on the New York Mercantile Exchange.
COMEX gold for May delivery fell $3.60 to settle at 953.80 an ounce.

Features

These Fortune 100 employers have at least 350 openings each. What are they looking for in a new hire? More

It would be the world's second-biggest economy. See how big companies' sales stack up against GDP over the past decade. More