Obama: G-20 must agree on bank rules
U.S. president says world leaders must act quickly and aggressively to address the global financial crisis.
Photos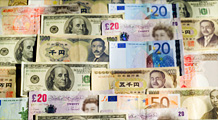 LONDON (CNN) -- President Obama said Wednesday world leaders meeting at the G-20 summit "cannot afford half-measures" as they try to hammer out ways to address the global financial crisis.
Speaking after a morning meeting with British Prime Minister Gordon Brown, on his first overseas trip as president, Obama said G-20 delegates have "a responsibility to act with a sense of urgency" and come up with "tough new rules" for managing the world economy.
"We've passed through an era of profound irresponsibility," Obama said at a joint news conference. "Now, we cannot afford half-measures and we cannot go back to the kind of risk-taking that leads to bubbles that inevitably burst. So we have a choice: We either shape our future or let events shape it for us."
Leaders from the Group of 20, which represents the world's leading industrial and emerging economies, will be meeting Thursday in London for a summit with financial chiefs.
Obama said the summit cannot solve all the world's problems, but it can make "real and unprecedented progress."
The two leaders praised the continuation of the "special relationship" between Britain and America, with Brown calling it resilient and constant.
"Ours is not an alliance of convenience -- it's a partnership of purpose," Brown said.
Brown called on world leaders to cooperate in achieving five tasks at the one-day summit, starting with restoring growth to emerging market economies and agreeing to "clean up" the global banking system.
There will be no sustainable recovery until a new regulatory system for the banks is put in place, Brown said.
Leaders must also commit to whatever is necessary to bring about the resumption of growth, Brown said. They must kick-start global trade and resist protectionism, he said, and lastly, they must make sure that economic recovery is low-carbon and sustainable so as to protect the environment.
"We have some tough negotiations ahead," Brown said. "It will not be easy, but ... the world does want to come together."
Obama called on leaders to reject protectionism, support emerging markets, and put in place a sustainable financial structure.
"We have a responsibility to coordinate our actions and find a common ground, not to focus on our differences," Obama said.
The president added he is "absolutely confident" the meeting will reflect "enormous consensus" about the steps that are needed.

Features

These Fortune 100 employers have at least 350 openings each. What are they looking for in a new hire? More

It would be the world's second-biggest economy. See how big companies' sales stack up against GDP over the past decade. More