The American cars Obama wants
To get that bailout cash, the government wants some changes in GM and Chrysler's line-up, but that change won't be quick, easy or cheap.
Photos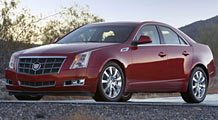 Find your next Car

NEW YORK (CNNMoney.com) -- The Obama administration has made it clear: In order to get the billions of dollars of federal money that Chrysler and General Motors need to survive, they'll need to build and sell more fuel efficient vehicles.
But even with many changes already underway due to stricter fuel economy regulations and public pressure, drivers won't see new line-ups overnight, even if these companies get the funds they need.
Automakers have been working to meet CAFE standards put in place in late 2007 that require cars and trucks to get 35 miles per gallon by 2020. But as public pressure mounts to regulate greenhouse gas emissions, fuel economy requirements could get even stricter.
Kicking the gas guzzling habit
Any increase in fuel economy means an increase in cost for automakers. While GM's (GM, Fortune 500) cars and trucks meet current efficiency requirements, the Treasury Dept. said its product lineup is more "vulnerable to CAFE standard increases than the portfolios of many of its competitors."
The situation for Chrysler is even more dire, according to the Treasury Dept.
Chrysler relies more heavily than GM on sales of trucks and vans. "On a standalone basis, Chrysler will struggle to comply with increasing fuel economy standards, and it may even have to restrict the sale of certain models to make sure it's in accordance with proposed standards."
This vulnerability is one of the reasons why more government money wasn't immediately given to prop up the automakers. Those stricter standards are something Chrysler and GM, like other auto companies, have already been planning for.
"It's a direction these automakers have been moving toward prior to this mandate," said Jeff Schuster, executive director of forecasting at J.D. Power and Associates.
But while GM and Chrysler may rely too heavily on large trucks and SUVs today, they can't entirely turn away from them now and survive. There is still a market for larger vehicles and those vehicles bring higher profits.
"I don't think we'll see the complete end of the large vehicle," said Schuster, "but their share has been declining and is declining."
Unfortunately, as much as "green cars" have become a popular rallying point, it's not clear that they're the way to business success. Today, hybrid cars make up about 2% of all vehicle sales in the U.S., a tiny sliver compared to sales of just pick-up trucks alone.
And Michael Robinet, vice president of vehicle forecasting for industry consultants CSM Automotive, doesn't think that hybrids will take a huge slice of the market anytime soon.
Slowly warming up to small
Still, profit or not, in order to maintain the overall fuel economy averages and get the government money they say they need to survive, both companies will need to sell more small cars and high-efficiency hybrid and electric vehicles.
GM already has one subcompact car on the market - which is one more than either Chrysler or Ford. The Chevrolet Aveo subcompact will be replaced in 2011 by the Chevrolet Spark, a more stylish looking little car that GM showed off recently at the Chicago Auto Show.
GM will also be relying on the Chevrolet Volt range extended electric car. While the Treasury Dept. seemed critical of GM's decision devote hundreds of millions of dollars to the Volt at the expense of more traditional "advanced hybrid" cars, a significant number of Volt sales could help GM meet fuel economy rules. Depending on how it's measured, the Volt could easily get triple-digit overall fuel economy.
Chrysler already has an arrangement for Nissan to create a small car for its dealers to sell, and Fiat already has several small cars in its line-up that Chrysler could draw upon for technology, or even entire cars with just cosmetic changes.
Chrysler also has plans for extended range electric cars like the Volt as well as as a plug-in only car. Chrysler's first electric vehicle is scheduled to go into production in late 2010, the carmaker says, with more to follow.
While these cars will help to meet regulatory requirements and satisfy political demands, which could keep the companies above water, the bigger question remains whether customers will buy them.
As always, satisfying the customer, not the government, is the biggest long-term challenge. "In the end, the consumer still wields a mighty sword called their wallet," said Robinet.

Features

These Fortune 100 employers have at least 350 openings each. What are they looking for in a new hire? More

It would be the world's second-biggest economy. See how big companies' sales stack up against GDP over the past decade. More