How to find college scholarships
Tally Hart, senior adviser for economic access at Ohio State University, gives advice about how to access funding for higher education.
Photos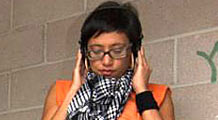 NEW YORK (CNN) -- Have you ever heard the myth that tens of millions of dollars in scholarships -- maybe even more -- go unused every year? As the story goes, if you only knew how to find them, they'd be there for the taking.
It's an enticing story, particularly as millions of families struggle with unemployment and skyrocketing tuition costs.
But is it true? To get the answer, and learn how people can find whatever scholarships do exist, we turned to Tally Hart, senior adviser for economic access at Ohio State University. Her goal: to help find ways for everyone to pay for school.
CNN: Let's start off with this: Is that myth true?
Hart: No, it's not true. A quote was taken out of context that's been used to, I think, promote this idea that there are unused scholarships. The fact is that there are a lot of scholarships available, and while they really do get used, it's important that every family get the scholarships that are intended for them.
CNN: What's the best way to find them?
Hart: There are three ways. One is a good free Internet service. The second is to look locally. And the third is through your college.
CNN: Let's break those down. Free Internet service -- where do they look?
Hart: There are several available: Fastweb.com, Petersons, the college board are examples of services that are free, that keep your information confidential unless you release it, and notify you later if they add a scholarship for which you're eligible.
CNN: Only work with a free one, not one you have to pay for?
Hart: That's right.
CNN: Tell us about this idea: look locally.
Hart: Talk with your guidance counselor, talk with the places that the student or the parent work, look at organizations like Rotary and Kiwanis, and at religious organizations - your mosque, your synagogue, your church. All of those are examples of local entities that will offer scholarships, and you want to be sure you cover that base too.
And don't let the amounts dissuade you. A $500 scholarship pays for half of your books for a year. That may sound like small, but that can be really valuable in keeping down your loans or making it a little less necessary to work while you're a student.
And also the colleges to which you'll apply will have every interest in you getting scholarships that they know about.
The biggest way that people miss scholarships though is missing deadlines. It isn't that scholarships go unused, it's that students fail to apply -- or fail to apply on time. So in the scholarship business, that's the most important component to keep in mind.
CNN: What does a winning scholarship application have that the others don't?
Hart: A winning scholarship really conveys who this person is. It talks about the honest background of the student and tells us a little bit more than just grades and a list of activities will convey.
The scholarship source will tell you what they're interested in learning. So follow their lead and try to respond to their question. But be sure to include things that may be unique about you.
An example is: lots of times students forget to include things that are a part of what they consider their family duties. If students spend a lot of time caring for younger children, or maybe an ill grandparent, those are the kinds of things that help explain who the student is in the broader context and could be really helpful in winning the scholarship.
CNN: You also have some advice for people out there who think that a certain thing about them might be kind of weird or quirky and their kind of wary of sharing it. And you've said that when it comes to, specifically scholarship applications, that's the time to take those quirks and put them out front and center.
Hart: Yeah. It has to be something that you feel comfortable in sharing. But your uniquenesses may help distinguish you. Remember that there are going to be lots of people competing for those dollars. Especially if you've overcome some obstacle or found something that has really inspired you, don't worry if it doesn't fit the usual mode that you think describes the scholarship.
An example might be a student who's had to work to help finance part of their high school costs, and plan for college and has worked flipping burgers but took on a management task or became a team leader. Those things are really of interest in distinguishing a student in a scholarship process.
CNN: And Tally, there are applicants who seem fantastic but they mess up something small -- they leave off one line; they leave off a date; they don't check a box. Something small that all of a sudden takes them out of the competition, right?
Hart: It's really a good idea to have someone who cares about you to look over the application. It could be a counselor, it could be a parent. Just have them run through it just to be sure you haven't missed something that could be critical. I hate to appear harsh, but again, those scholarship providers are going to be looking at a lot more applicants than they can actually award. So having thoroughness conveyed in your application becomes an important characteristic in winning that scholarship.

Features

These Fortune 100 employers have at least 350 openings each. What are they looking for in a new hire? More

It would be the world's second-biggest economy. See how big companies' sales stack up against GDP over the past decade. More