Despite a deluge of bleak economic news, these nine people are staying optimistic and finding success.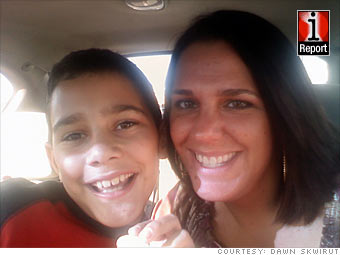 Dawn Skwirut, 31, and her son, Maxwell.
Location: Leechburg, Pa.
Profession: Freight coordinator
Tip: Refocus on what's important, like spending time together.
I am optimistic because:
"I think you'll just cause yourself more stress by worrying about things you can't change. I feel everything that's ever happened in my life has been for a reason. I work in the trucking industry, and it's been tough to see my customers lay off workers and my distributors close down. I work mostly with independent drivers, and I have no clue how they are making it.
I try to put myself in their shoes every day. It must be so tough. Try and stay positive. Cut down on what you don't need. If you have cable, read a book instead. I never read a book in my life before the downturn, and now I've been reading every day.
Try to take advantage of the sales if you can. My son's in the growth-spurt age, and none of his clothes are fitting. I went to JCPenney and bought him about 12 outfits for only $100.
It's tough times out there, but I think it will force our country to look at what's really important. We need to focus on our families, spending time together, and building each other up instead of tearing ourselves down with greed.
I can't help but think this is reality knocking into us, saying, `Think about your neighbor, too.' We live in fast times of greed and competition. Many families are broken up, and others spend limited time together. But with a lot of people out of work, they have nothing to do but spend time together.
This holiday I explained to my son Maxwell that we wouldn't have as many gifts this year. "Christmas isn't about gifts," he said. That made me think I need to listen to him more.
However, his birthday was right after the holidays and when I tried to remind him what he said, he responded: `Mom, I said Christmas isn't about gifts. But birthdays are.' I got a kick out of that."
NEXT: Gwen Brandenburg