Let GM and Chrysler go bankrupt, Americans say
Most of those surveyed say they would rather the automakers fall into bankruptcy than get more bailout cash.
Bailout tracker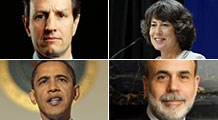 The government is engaged in a far-reaching - and expensive - effort to rescue the economy. Here's how you can keep tabs on the bailouts.
More
Photos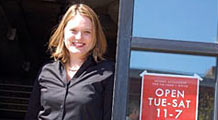 Find your next Car

NEW YORK (CNNMoney.com) -- Americans are fed up with the Detroit drama.
Three out of four Americans would rather see General Motors (GM, Fortune 500) and Chrysler face bankruptcy than watch the government pour yet another round of bailout cash into the big U.S. automakers, according to a CNN/Opinion Research poll released Thursday.
While 76% of survey respondents want to see the automakers face bankruptcy, 22% are willing to prop them up with more bailout cash, according to the poll, which surveyed 1,000 Americans from April 3-5.
While GM still hopes to avoid going bankrupt, preparations for a bankruptcy filing have become "intense and earnest" at the Detroit giant, according to a source familiar with the company's plans.
Americans are more divided on the Obama administration's increased involvement in the way businesses and financial institutions are run. According to the survey, which has margin of error of plus or minus 3%, 42% of Americans think the Obama administration has done what it should, while 23% think the government ought to have even more oversight powers. But 35% of respondents say the government has gone too far.
One of the reasons Americans are willing to let the Big Three head into bankruptcy is that many don't see Detroit's woes significantly affecting the national economy.
Of those surveyed, 44% said auto bankruptcies would only cause "minor problems" for the U.S. economy. That's an increase from December's poll results, when 28% of those questioned said the bankruptcy effects would be minor. (For more on Detroit's ripple effects, see "Auto bankruptcy: What it means")
But only 37% of those surveyed in April thought a Detroit bankruptcy would cause "major problems" for the U.S. economy, down from 51% of those polled in December. More than half of Americans think that a Detroit bankruptcy would have no impact on their personal financial situation.
If a major manufacturer does fall into bankruptcy, government guarantees on their warranties could prove critical to maintaining consumer demand for their inventory of cars. The CNN/Opinion Research pollsters divided their respondent pool in half, asking one group about their willingness to buy a car from a bankrupt auto company. Almost half of those asked - 47% - said they were "not likely at all" to do so, and only 12% said they were "very likely" to buy from a bankrupt company.
But when researchers asked the other half of their survey pool about buying a car from a bankrupt auto maker, they asked how likely the respondent would be to buy if they knew the government would stand behind the warranty on the car. Among those respondents, the "very likely" to buy response rate doubled, to 24%, while the "not likely at all" response declined to 27%.
President Barack Obama said late last month that the federal government would stand behind the warranties on all purchases of GM and Chrysler vehicles going forward. Analysts are waiting to see how much the moves pump up sales.

Features

These Fortune 100 employers have at least 350 openings each. What are they looking for in a new hire? More

It would be the world's second-biggest economy. See how big companies' sales stack up against GDP over the past decade. More