For small biz, is there an 'us' in stimulus?
Only 14% of small business owners think the stimulus will help their company - and 31% think it will hurt.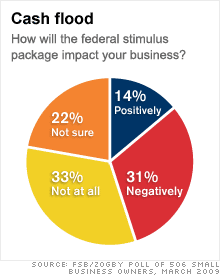 Bailout tracker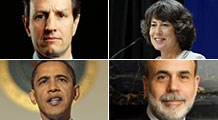 The government is engaged in a far-reaching - and expensive - effort to rescue the economy. Here's how you can keep tabs on the bailouts.
More
(Fortune Small Business) -- Geoff Chapin, CEO of green remodeling company Next Step Living, is ready to do his part for our flailing economy. He believes that federal stimulus funds, which include $5 billion for weatherization projects, will trickle down to his Boston-based startup.
"We plan to hire up to 120 people in the next 18 months," he told Fortune Small Business.
But small business advocates worry: Will entrepreneurs like Chapin really nab their share of lucrative government contracts? The White House estimates that nearly 75% of the funds will be committed by August 2010. To meet that tight deadline, agencies may hire bigger companies with a greater capacity to handle several different types of projects.
More troubling, the $787 billion stimulus bill passed in February does not specifically require government agencies to spend a penny with small businesses.
"If history is any guide, there is reason to be concerned," said Rep. Glenn Nye (D-Va.), chairman of the House Small Business Subcommittee on Contracting and Technology, during a congressional hearing. "The federal government has not once, in the last eight years, reached its small business contracting goals."
The federal government is obligated to award 23% of its contract dollars to small businesses; in practice this rule has been largely ignored.
Chapin, however, is confident that he'll get his bite of government pie. Next Step Living spent months building relationships with Massachusetts agencies and documenting the energy savings and cost-efficiency of the firm's work, he says, which he believes puts him in a strong position to bid on weatherization contracts.
"In an emerging industry with a lot of funding coming in, you run the risk of everyone jumping on the bandwagon," he says. "We were lucky to be in this space before things really accelerated."

To write a note to the editor about this article,
click here
.