Former Freddie CEO Moffett to return
David Moffett will temporarily come back to Freddie to help fill the CFO responsibilities after finance chief tragedy.
Bailout tracker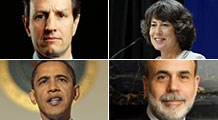 The government is engaged in a far-reaching - and expensive - effort to rescue the economy. Here's how you can keep tabs on the bailouts.
More
Obama's First 100 Days
You elected them... now grade them along with CNN's best political team! Rate the president, Congress and your state leaders in
CNN's National Report Card
Wednesday, April 29th, at 7 p.m. ET
NEW YORK (CNNMoney.com) -- Former Freddie Mac Chief Executive David Moffett, who resigned six weeks ago, is temporarily returning to the mortgage finance giant as an adviser following the death of acting finance chief David Kellermann, the company said Friday.
Moffett will fill the CFO role until a search for a permanent finance chief is completed. Kellermann, who had served as acting CFO since September, died of an apparent suicide on Wednesday.
"I am grateful to David [Moffett] for offering to assist us during this challenging time," said interim Chief Executive John Koskinen in a statement. "David is well positioned to advise me in my oversight of the finance function [and] he knows the company well from his time as chief executive."
The Federal Housing Finance Agency, which regulates Freddie Mac, said it was grateful that Moffett agreed to return to the company "during this difficult time."
Trying time for Freddie Mac
The latest news is another turn of events in what has been an uneasy year and a half for Freddie.
Freddie (FRE, Fortune 500) and sister company Fannie Mae (FNM, Fortune 500) were established by Congress in 1970 and 1938, respectively, to provide liquidity to the housing market. While the companies are publicly traded, they can also access the Treasury's reserves for capital.
Fannie and Freddie provide the primary source of funding for banks and lenders by buying up trillions of dollars of mortgages, attaching guarantees, then selling securities backed by the loans' income stream.
Last summer, as the housing crisis deepened the companies faced significant losses. The prospect of government intervention loomed and both companies' shares went into tailspins. Freddie's stock was valued at about $70 per share before the housing bubble burst. But within a year, shares plummeted to about $5 by August 2008. Freddie's stock now trades for less than $1 per share.
Then on Sept. 7, Fannie and Freddie were placed under conservatorship -- a process in which the government runs the companies, but they are still owned by shareholders. The government ousted CEO Richard Syron and named David Moffett to the post.
But Moffett's tenure as CEO lasted just six months. Moffett, who had served as chief financial officer of U.S. Bancorp from 1993 until 2007, said at the time that he planned to return to the financial services sector.
Troubles continued for the firm.
According to a March 11 company filing, Freddie Mac was being investigated by U.S. Attorney's Offices in New York and Virginia.
It subsequently was notified that the Securities and Exchange Commission was also launching an inquiry -- which has since evolved into a "formal investigation."
The company was subpoenaed for documents relating to accounting, disclosure and corporate governance matters in September 2008, October 2008, January 2009 and February 2009. The filing also said that SEC staff was interviewing company employees
Meanwhile, the government's involvement in the companies' finances deepened.
As part of its rescue of Freddie and Fannie, the Treasury made $100 billion available to each to cover future losses -- amounts that President Obama has since doubled.
On March 11, Freddie reported that it had asked the government for $30.8 billion after already receiving $13.8 billion last fall.
Freddie lost a total of $50 billion in 2008, nearly all of it in the second half of the year, following the government takeover. The company's losses deepened as the housing market continued its decline.

Features

These Fortune 100 employers have at least 350 openings each. What are they looking for in a new hire? More

It would be the world's second-biggest economy. See how big companies' sales stack up against GDP over the past decade. More