Chrysler to lose $4.7B this year
Adviser for the bankrupt automaker estimates that Chrysler will burn through $15.7 billion during restructuring, expects losses to continue through 2011.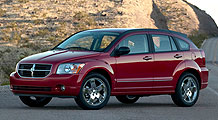 Chrysler was king of the hill with its 300 series just a few years ago. Oh how the mighty have fallen.
NEW YORK (CNNMoney.com) -- Chrysler LLC expects to lose $4.7 billion this year and to continue to lose money for the next two years, according to a filing from one of the company's top financial advisers.
Robert Manzo, a financial adviser hired by Chrysler for help with the company's bankruptcy process, estimated in the filing that the company will have cash expenditures far greater than losses for the next few years. Chrysler is estimated to go through about $15.7 billion this year as part of its restructuring.
The company filed for bankruptcy Thursday as part of a deal with the federal government, unions, some lenders and Italian automaker Fiat to keep the company from being shut down.
Chrysler is a privately held company that has not publicly released its financial results since it was purchased by private equity firm Cerberus Capital Management in 2007, and analysts therefore do not publish loss estimates for the company.
Analysts surveyed by Thomson Reuters forecast that larger rival General Motors (GM, Fortune 500), which is also facing the threat of a bankruptcy filing at the end of this month, will post a net loss of $18.4 billion this year, while Ford Motor (F, Fortune 500), which is also significantly larger than Chrysler, is expected to lose $6.2 billion this year.
The filing also disclosed that Chrysler lost $16.8 billion in 2008. That's about the same as what GM lost in 2008, excluding special items, although not as bad as the $30.9 billion net loss at GM. But it was worse than the $14.6 billion lost by Ford last year.
Manzo's filing forecasts that Chrysler will lose about $900 million in 2010 and another $300 million in 2011, before finally reporting a $100 million profit in 2011.
The forecasts are far worse than the estimates Chrysler gave in a Feb. 17 filing with Treasury in which it requested additional government help. In that filing it estimated that a stand-alone Chrysler LLC would lose $1.1 billion this year, make a $600 million profit in 2010 before losing $600 million in both 2011 and 2012.
The company won additional cost savings from the United Auto Workers union in a concession contract ratified last week, and reached agreement with a number of major lenders to significantly reduce the $6.9 billion in secured loans it had outstanding. It also reached a deal to combine operations with Italian automaker Fiat, although that deal has yet to close.
But Chrysler filed for bankruptcy court protection when it was unable to close a deal with all of its lenders. It expects to have Fiat purchase its most attractive assets through the bankruptcy process, leaving behind many of its liabilities and excess plants in the bankruptcy court's jurisdiction.
The government has agreed to loan it $8 billion to see it through the bankruptcy process on top of the $4 billion in federal help it has already received.

Features

These Fortune 100 employers have at least 350 openings each. What are they looking for in a new hire? More

It would be the world's second-biggest economy. See how big companies' sales stack up against GDP over the past decade. More