$4,000 rebate on a new Chrysler
Automaker announces incentive plan, gives new customers rebates, offers more to current customers and credit union members.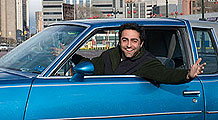 Detroit residents often are asked why they stay. 13 locals answer that question - and reveal their favorite treasures of the Motor City.
Find your next Car

NEW YORK (CNNMoney.com) -- Chrysler announced a new sales incentive plan Wednesday as the carmaker seeks to spur sales while it works through bankruptcy and restructuring.
Chrysler is immediately offering up to $4,000 in cash rebates on 2009 model year vehicles. Actual cash rebates will vary by model and location. Chrysler could not immediately provide specific examples.
Additionally, current owners of Chrysler, Dodge and Jeep vehicles can get $1,000 more toward a new Chrysler vehicle.
While these offers are good, potential Chrysler customers who were expecting blow-out deals now that the automaker is officially in bankruptcy may be disappointed.
"This is not that, certainly," said Jack Nerad, editorial director for Kelley Blue Book, which provides pricing data.
There is also nothing fancy about Chrysler's new incentives. The company is not offering to cover car payments in case of job loss; nor will it compensate buyers for losses in car value should the automaker be forced out of business.
"Consumers are telling us that the net purchase price of the vehicle is the most important factor right now," Steve Landry, Chrysler vice president for sales said in a press release. "So we are pleased to introduce incentives that address what the consumer is looking for."
Job-loss based incentives may have worked for Hyundai, which was first to offer a payment-protection plan, they didn't have the same effect for General Motors (GM, Fortune 500) or Ford (F, Fortune 500), Nerad said. That's because the newness factor of the protection plans had already worn off by the time the American automakers announced their versions.
"If you figure you're going to lose your job, or the odds that that's going to happen, you're pretty unlikely to be considering a new car purchase in the first place," Nerad said.
Buyers who finance their vehicles through participating credit unions can also get another $1,000 toward their purchase. More than 1,500 credit unions with members in all 50 states are participating in a special low-rate financing program, the automaker said.
These rebates are expected to be combined with dealer incentives. Chrysler gives such sweeteners to dealerships, rather than to the customers, but dealers often pass on the savings by reducing the purchase price of vehicles.
A Chrysler spokeswoman would not discuss dealer incentives, which are generally not made public.
Chrysler's "Employee Pricing Plus Plus" incentive program, which ended yesterday, offered customers up to $6,000 on Chrysler, Dodge and Jeep vehicles, including 2008 models, as well as 0% financing.
Chrysler has been the biggest spender among all auto manufacturers on incentives in the U.S. market. Last month, Chrysler spent $4,288 per vehicle on incentives, according to auto data Web site Edmunds.com.
The next highest spender was GM, which is also undergoing a government-driven restructuring and may declare bankruptcy later this month. GM spent $4,063 per sale.

Features

These Fortune 100 employers have at least 350 openings each. What are they looking for in a new hire? More

It would be the world's second-biggest economy. See how big companies' sales stack up against GDP over the past decade. More