Ford plant dumps SUVs, goes small
Automaker is investing $550 million to convert Michigan plant from building trucks to producing fuel-efficient cars. Mullaly says small vehicles can be sold profitably in US.
Photos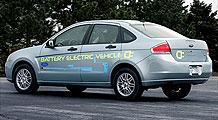 Find your next Car

NEW YORK (CNNMoney.com) -- Ford Motor said Wednesday it will spend $550 million to convert a plant, which previously produced trucks and SUVs, into a "green" manufacturing complex and build small, fuel-efficient and electric cars.
"We do not accept the notion that you cannot sell small cars here in the United States profitably," said Ford CEO Alan Mulally at a press conference Wednesday.
The automaker's Michigan Assembly Plant, in Wayne, will begin producing the Ford Focus, a compact car, in 2010. It also plans to begin making a battery-powered electric version of the Focus at the plant in 2011.
"We're changing from a company focused mainly on trucks and SUVs to a company with a balanced product lineup that includes even more high-quality, fuel-efficient small cars, hybrids and all-electric vehicles," said Mark Fields, Ford's president of The Americas, in a statement.
Ford said the plant will support about 3,200 jobs and is one of three North American factories being retooled to handle its new compact car platform.
The plant, formerly know as Michigan Truck, was used to manufacture the Ford Expedition and Lincoln Navigator SUVs. During the 1990s, when SUV sales were at their peak, the plant was one of the most profitable in the world, Ford said.
But automobile sales have plummeted as the economy has faltered and consumers shun big cars in favor of more economical models. The company said last week that sales fell nearly 32% in April from the previous year. Still, that was considered a victory because it was better than the 42% drop in sales reported by Japanese automaker Toyota (TMC).
And Ford (F, Fortune 500) has fared better than its Detroit rivals, Chrysler and General Motors. Indeed, Chrysler declared bankruptcy last week and GM (GM, Fortune 500) is being kept afloat with billions of dollars in federal loans.
For its part, Ford said the conversion is part of its "fundamental strategic shift" to bring small cars to the American market by the end of 2012. As such, it plans to eventually produce 2 million of these vehicles annually around the world.
"Our vision for Ford is green, global and high tech," said Bill Ford Jr., executive chairman, at the press conference, adding that the transition will "make a huge difference for our customers and society."
In addition to the Michigan Assembly Plant, Ford said it plans to retool its Cuautitlan Assembly Plant in Mexico to build the Fiesta subcompact early next year. It is also converting its assembly plant in Louisville, Ky., to the small-car platform by 2011.
A Ford spokesperson said the automaker is actively pursuing government aid through a Department of Energy initiative to help fund the production of fuel-efficient cars. At this time, however, no funding for this initiative has been granted to any applicant.
The decision to revamp the Michigan plant is a major boon to the state, which is struggling to revive an ailing economy, said Gov. Jennifer Granholm at the press conference.
Granholm said the new plant will help transform the state's "rust belt" image to on of a "green belt" and called Ford's investment "a balm for our soul during tough times."
The governor's remarks echoed CEO Mulally's, who said the company is "fighting for the soul of manufacturing in Michigan and the United States."

Features

These Fortune 100 employers have at least 350 openings each. What are they looking for in a new hire? More

It would be the world's second-biggest economy. See how big companies' sales stack up against GDP over the past decade. More