Ford is taking a measured approach to rolling out electrically driven cars. We got to drive a few of the vehicles that the company has up its sleeve.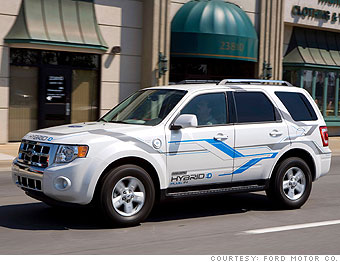 Ford doesn't have anything as splashy as the Toyota Prius or Chevrolet Volt in its line-up - yet. But the carmaker has long touted its multi-tiered approach toward a gas-free future.
Things have advanced far enough that some of these technologies are available to drive now, so we tried them out.
The Ford Fusion Hybrid is just coming to market now. The Taurus SHO, with Ford's EcoBoost engine will be available this summer. The Ford Fiesta subcompact car will be here next year and, in 2011, Ford will begin selling a fully electric compact car.
The Escape Plug-in, shown here, is the farthest out. It isn't coming until 2012. It's in testing with power companies around the country now and I was able to take one for a short drive last year.
The reason it's taking so long to come to market is that plug-in hybrid is actually the toughest technology to execute. Unlike a full electric vehicle, it relies on two power sources at one time to power the wheels. And unlike today's regular hybrids, the computers have to be smart enough to make good use of the extra plug-in electricity to deliver maximum efficiency.
During my drive, which was mostly on city streets, the gasoline engine turned on only occasionally, when it was needed for extra punch.
Keep on reading for an early look at four fuel economy strategies that Ford will bring to market over the next couple of years.
NEXT: Focus BEV
Last updated May 06 2009: 11:11 AM ET
Email
|
Print
|

Digg this story
|

RSS