NY Fed chair quits over Goldman role
Friedman steps down after report that he remains on board and holds shares of Goldman, a regulated bank.
Bailout tracker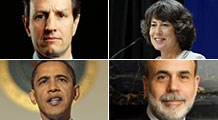 The government is engaged in a far-reaching - and expensive - effort to rescue the economy. Here's how you can keep tabs on the bailouts.
More
NEW YORK (CNNMoney.com) -- The chairman of the Federal Reserve Bank of New York resigned Thursday, days after coming under attack for his continuing involvement in a company regulated by the institution.
Stephen Friedman received a waiver to remain on the board of Goldman Sachs (GS, Fortune 500), the Wall Street firm that became a bank holding company amid September's financial frenzy, according to a report in the Wall Street Journal on Monday. He also holds a substantial amount of shares in the company and continued to buy more even after Goldman came under the Fed's supervision.
"Today, although I have been in compliance with the rules, my public service motivated continuation on the Reserve Bank Board is being mischaracterized as improper," Friedman wrote in his resignation letter. "The Federal Reserve System has important work to do and does not need this distraction."
Denis Hughes, the board's deputy chair, will take over Friedman's duties.
Each of the Federal Reserve's 12 regional banks has nine directors. Their duties include setting their district's discount rate and appointing their bank's president. Other responsibilities include approving their bank's budget, overseeing operations, and appointing the bank's officers. Three of the directors work for banks, but Friedman's role is to represent the public.
Friedman, 71, has served as chairman of the New York Fed since January 2008, and led the bank's search for a new president after Timothy Geithner stepped down in November to become President Obama's Treasury Secretary.
The board ultimately chose William Dudley, an executive vice president of the bank who had worked at Goldman Sachs for 21 years, as president. Dudley oversees the operations of the New York Fed, which is considered very powerful because it supervises some of the nation's largest banks.
A Goldman director since April 2005, Friedman worked at Goldman since 1966 before retiring as a senior partner and chairman of the management committee in 1994. He serves as chair of the Wall Street firm's audit committee and received $308,000 in stock awards in 2008 as compensation, according to federal filings. As of March 9, he owned 111,516 shares, which are worth nearly $15 million as of Thursday. Some 12,916 shares are restricted stock units to be delivered at a later date.
The New York Fed's general counsel, Thomas Baxter Jr., defended Friedman's recent stock purchases, which occurred while the Federal Reserve was weighing the waiver request. Friedman bought 37,300 shares worth $3 million in December, according to the Journal. He didn't check with the Fed, and lawyers at the New York Fed told the Journal they were not aware of the purchases until the newspaper contacted them last month.
Friedman then bought another 15,300 shares in January, the day after the waiver was granted. The two blocks of stock have risen a total of $3 million in value.
"With respect to Steve's purchases of Goldman shares in December of 2008 and January of 2009, which have been the object of some attention lately, it is my view that these purchases did not violate any Federal Reserve statute, rule or policy," Baxter said in a statement.
Goldman's close ties to the federal government has raised some eyebrows. Former Treasury Secretary Henry Paulson ran Goldman, which received $10 billion from the Troubled Asset Relief Program.

Features

These Fortune 100 employers have at least 350 openings each. What are they looking for in a new hire? More

It would be the world's second-biggest economy. See how big companies' sales stack up against GDP over the past decade. More