The forgotten fiscal problem
The recession has put the debate over Social Security's fiscal health in the shadows. A report Tuesday could revive it - at least for awhile.
Bailout tracker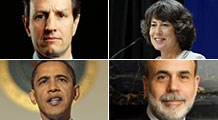 The government is engaged in a far-reaching - and expensive - effort to rescue the economy. Here's how you can keep tabs on the bailouts.
More
NEW YORK (CNNMoney.com) -- The financial crisis has cast a shadow over a perennial debate in Washington: How to ensure the long-term financial health of Social Security.
While President Obama has taken on more major issues in his first few months than most presidents, the entitlement program for retirees hasn't made the list.
But on Tuesday, the reform debate is likely to be revived, if only temporarily, with the release of the annual report from the trustees who oversee Social Security and Medicare.
Experts expect the trustees' short-run projections for both programs to be worse than they were a year ago.
Demands on both have grown while money paid into the system has fallen because of growing unemployment and various new tax breaks in the economic stimulus package enacted in February.
The White House budget office estimates that Social Security will take in less in payroll taxes than it must pay out in benefits for 2009 through 2011. And then the system is expected to start running a small cash surplus for a few years before once again taking in fewer taxes than it pays out in benefits.
The temporary hit to the program's balance sheet isn't surprising, said Paul Van de Water of the Center on Budget and Policy Priorities. For example, the balance sheet also took a hit during the downturns in the early 1990s and 2001.
"Payroll taxes are very sensitive to macroeconomic conditions in the short run, while Social Security benefits are less so," Van deWater wrote in a CBPP report.
Last year, the trustees projected that Social Security would start to bring in fewer taxes than it pays out in benefits in 2017.
They also projected the program's trust fund -- reflecting a $2.4 trillion surplus that Uncle Sam borrowed, spent and promised to pay back -- would be tapped out by 2041. Barring any changes, that's the point after which the system would only be able to pay out 78% of benefits promised to future retirees.
Both of those dates are likely to be pushed forward somewhat in Tuesday's report.
Experts disagree about what's the most critical point in evaluating the health of Social Security -- when it starts taking in less than it pays out, or when it exhausts its trust fund.
Those who describe Social Security's situation as a crisis point to the earlier date, because that's when the government has to start paying the system back with interest.
"When Social Security needs to draw down the 'surplus' the Treasury will have to borrow money, raise taxes or cut other spending in order to redeem the IOUs," said Charles Konigsberg, a federal budget expert at deficit watchdog group the Concord Coalition.
On the other end of the spectrum are those who say the system isn't in crisis but rather has a long-term shortfall that needs to be addressed. They are most concerned about that later date.
"Social Security reduced the Treasury's need to borrow from the public by $2 trillion [over the past 20 years]," said Van de Water, a former acting deputy commissioner for policy at the Social Security Administration.
But both camps agree on two things: It will be less onerous to tackle Social Security sooner rather than later. In the meantime, there is no threat to current and soon-to-be retirees' benefits.
One of the factors causing the long-term shortfall is the fact that Americans are living longer. In response, the American Academy of Actuaries is advocating that lawmakers gradually increase the age at which a person can start collecting full Social Security benefits.
Medicare: An even tougher case
Another point that experts agree on is that Social Security's shortfall is far easier to address than Medicare's.
Last year was the first year in which Medicare collected less in taxes and premiums than it paid out in benefits.
And the trustees projected that it would exhaust its trust fund by 2019. Cori Uccello, the senior health fellow for the American Academy of Actuaries, said she wouldn't be surprised if this year's report moves that date forward by one to three years.
There's no easy fix. "This is more of a process," Uccello said, noting that the burden will need to be shared by taxpayers, those in the health industry and Medicare beneficiaries alike.
Part of that burden will be relieved once the growth of health care costs is slowed. But, Uccello said, "[That] is not going to happen overnight. It will take many years to see results."
Starting the debate on Capitol Hill
While the issue of how to fix Social Security and Medicare has not been on the front burner, some lawmakers have already begun debating serious options for reform of health care delivery.
The president's budget calls for a number of administrative changes to Medicare that the administration estimates could save roughly $300 billion over 10 years, although those savings would be earmarked to help pay for Obama's proposed health care reform fund.
And on Monday, the administration offered more details on a promise by six health industry trade groups to slow the growth in health care costs.
Others on Capitol Hill, including House Majority Leader Steny Hoyer, D-Md., and Sen. Lindsey Graham, R-S.C., are hoping lawmakers will address entitlement reform as soon as Congress completes work on health care and energy reform issues.
Meanwhile, a bill introduced by Sens. Joe Lieberman, I-Conn., and George Voinovich, R-Ohio, would establish a bipartisan commission to overhaul Social Security, Medicare and the tax code, according to Congress Daily.
In a recent speech on Social Security, Hoyer said, "We can bring in more revenues. We can restrain the growth of benefits, particularly for high-income workers, while we strengthen the safety net for lower-income workers. And/or we can raise the retirement age, recognizing our life expectancy is significantly higher. What is missing here is not ideas -- we have a lot of ideas -- it is the political will."

Features

These Fortune 100 employers have at least 350 openings each. What are they looking for in a new hire? More

It would be the world's second-biggest economy. See how big companies' sales stack up against GDP over the past decade. More