Memorial Day travel to rebound
Motorist group says 32.4 million Americans plan to travel during the holiday weekend due to gas prices well below last year's record levels.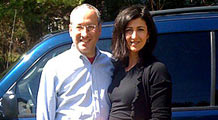 From a 1997 Mercury Cougar to a 2009 Honda Pilot, 8 readers tell us why they decided to buy a new car or keep their old wheels.
NEW YORK (CNNMoney.com) -- Memorial Day travel is expected to rebound this year, thanks to a decline from 2008's record gas prices and discounts on hotels, the motorist group AAA said Tuesday.
A total of 32.4 million Americans will travel at least 50 miles from home to mark the holiday weekend, AAA said. That's an increase of 1.5% from last year, when soaring gas prices cut the number to 31.9 million.
"The good news is sharply lower gasoline prices and plentiful travel bargains have Americans feeling better about taking a road trip this summer," said Robert Darbelnet, AAA president and chief executive, in a statement.
Retail gas prices now average $2.248 a gallon nationwide, according to a daily survey of gas stations conducted for AAA. That's down 39.5% from a year ago, and well below the all-time high of $4.114 a gallon hit last July.
While gas prices have increased 20 cents over the last 14 days, raising some concerns about holiday travel, AAA said it does not expect the price of gas to average more than $2.50 per gallon this summer.
"The combination of a weak economy and reduced level of demand is putting a ceiling on the price of gas this summer that we did not see last year," said Troy Green, AAA spokesman.
The number of Americans planning to travel by car is expected to rise to 2.6% to 27 million, accounting for majority of those taking a trip, AAA said. Another 3.3 million will travel by rail, buses or watercraft.
Airline travel, however, is expected to fall 1% to approximately 2.1 million Americans, despite a projected 4% decline in airfares.
Hotel rates are expected to be between 7% and 12% lower than last year, with travelers spending an average of $104 to $142 per night, according to AAA. Car rental rates are forecast to drop, with consumers paying an average of $43 per day compared to $45 a year ago.
Green acknowledged that many households face financial hardships, but he said the "mental health" benefits of travel still hold strong appeal and that Americans are willing to take shorter, low frills trips to save money.
"People will do what they have to do in order to travel," he said.
In addition to low gas prices, AAA says there is "pent up demand" for travel this summer, since many Americans had put off plans to travel during previous holidays.
"People have been waiting to travel and now they're ready to do it," said AAA spokeswoman Heather Hunter.
Construction ahead: Looking ahead, Green said there's a chance motorists will see increased road work activity this summer due to government spending on infrastructure projects aimed at boosting the economy.
"This summer will probably be busier than normal summers," Green said. But he added that state and local governments will try to limit construction to off peak hours.
"State departments of transportation will do their best to create an environment where travelers won't be subject to lengthy delays," he said.

Features

These Fortune 100 employers have at least 350 openings each. What are they looking for in a new hire? More

It would be the world's second-biggest economy. See how big companies' sales stack up against GDP over the past decade. More